District choirs sing hearts out for the Fall Choral Festival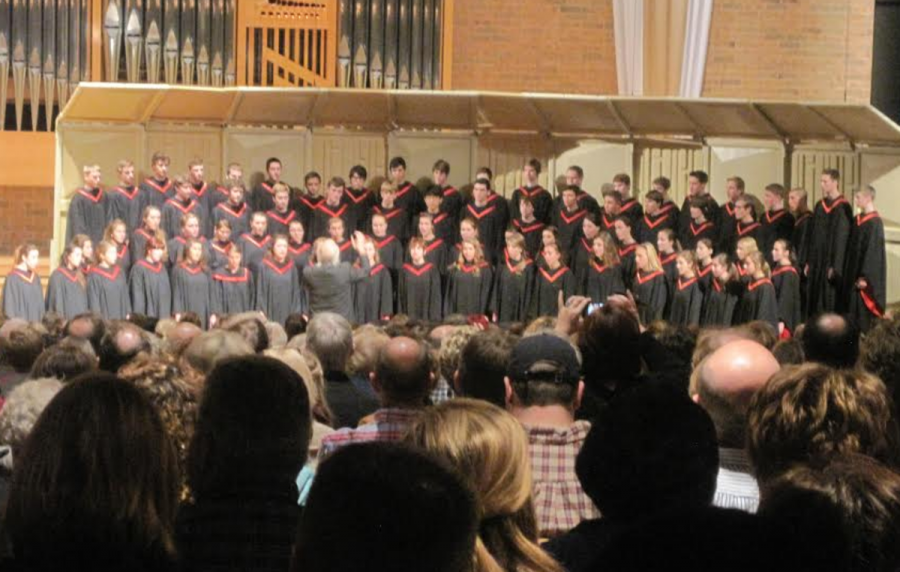 Lucien Lemanski
December 12, 2013
Stand up and walk with a purpose. Left, right and left as the Stillwater Choir walks across the front of the church. The Choir approaches the risers, they start to hum the starting note for the first piece. Choir teacher Erik Christiansen walks up and looks at the ends of the choir to see if the note has reached everyone. He raises his hands and starts the piece. With that. the sound wells out of the singers into the audience.
The Fall Choral Festival at St. Andrews Lutheran Church in Mahtomedi is a choral tradition that happens every year around mid November. The choirs of Stillwater Junior High School, Oakland Junior High School and Stillwater Area High School all get together and put on a concert for the people of the St. Croix Valley.
"Much preparation went into the concert such as reading the music, learning how to count time, focusing our tone and breathing. Doc spent as much time with us as he could teaching us proper singing technique," said sophomore Simon Leppicello.
Leppicello is in Stillwater Area High School's Varsity Men's choir which is a strictly male chorus and there is no pre audition, everyone makes it in.
Christiansen has been the director of the Stillwater Choir for 25 years. He has studied with Paul Christiansen, Maurice Skones, Ralph Roberts and Douglas McEwen and holds a D.M.A. from Arizona State University.
He has taught vocal music at two other high schools and at Capital University, Southeastern Louisiana University and Concordia College. He is the son of Paul Christiansen, former director of the Concordia Choir, and the grandson of F. Melius Christiansen, founder of the St. Olaf Choir.
"We started learning it the second we came in the door on the first day of school and have come such a long way," said Leppicello.
When the students walk in they do not know many of the people singing with them, but by the end will be very close with everyone whom they sing with.
"First impression was panic because no one knew what was really going on at the time, but immediately after that I noticed that everyone was really calm anyway, so it was fine. That seems to be true for everything we do in choir," said senior Nick Benish.
Belle Chanter is another choir at it is composed of all women. The process for joining this choir is to audition for director Angela Mitchell in the spring and then Mitchell chooses the girls that she wants to be in the choir.
"I love being in belle because it's a great start to my day! It's also nice because were kinda like a  family, we get out what we put in and work together to achieve a goal!" said senior section leader Emily Adrian. I think the most difficult piece for me was Ad Amore due to the dissonant chords and meshing patterns. It was a challenge at first, but with sectionals we overcame it."
The Stillwater Choir is the other choir that Christiansen conducts and it is a nationally renowned choir. The Choir sings pieces from Ola Gjeilo, Eric Whitacre and also Christiansen's grandfather F. Melius Christiansen, just to name a few. In their first concert, it was no easy path either singing pieces by Gjeilo, Christiansen and the famous Russian composer Tschesnokoff.
"I thought the concert went really well. There are always going to be things we can work on and we'll never be perfect, but as far as concerts early in the year we sounded very good. Plus, we were surprisingly comfortable singing together which is rare when we haven't spent a lot of time together," said Benish.
Choirs are choirs for a reason, a group sounds better and brings more emotion to a piece than a single person does. It stands to show that the Stillwater Choir, Varsity Men and Belle Chanter have their annual concert for a reason as well.