Boys and girls hockey looks for ground early
It seems like many people are roaring about this upcoming hockey season including fans, players and coaches. Coaches are starting to formulate their new plans and approach for the upcoming season, players are anxious to fill the roles of graduated seniors as they get ready for tryouts, and fans are excited to watch their classmates compete in perhaps the most exhilarating spot for high school hockey in the world.
Stillwater girls hockey team looks to improve on an 8-15-1 record, with a lot of experienced and young talent. Senior captains Olivia Konigson and Claire Knowlan continue to be key players in defending and attacking the crease as they did in their junior seasons. Above all, these well-qualified captains are focused on leading this young team to victory.
Stillwater boys hockey had an incredible year coming off a 23-1-1 season and placing fourth in state. Senior captains Noah Cates and Luke Manning intend to continue their momentum and qualify for the iconic Minnesota State Hockey Tournament again this year.
Boys and girls hockey have a lot of experienced players returning, particularly the guys, who are very senior based this year. With this seniority, comes a lot of maturity regarding talent, competence and knowledge on the ice.
"
Having a team full of seniors means we will have a lot of chemistry. We've been playing with each other since we were very young and have had a lot of success."
— Luke Manning
Manning explained, "Having a team full of seniors means we will have a lot of chemistry. We've been playing with each other since we were very young and have had a lot of success. Most of the team this year have also played in last years state tournament, so our experience in that department should help us a lot come playoffs."
In regards to his team, Manning added, "We play well together on the ice but what's just as important is how well we get together off the ice. This helps in making it a very fun season, something i'm really looking forward to."
Although the girls have experience, this year's team allows opportunity for a lot of young emerging talent. This can only be beneficial to the underclassmen willing to inherit stronger roles and seniors who want to lead and point the way to these young players.
"I want to make sure there is a good team dynamic and to make sure everyone gets along with one another," Knowlan said.  "There are very large age gaps, so I plan on leading the way for these underclassmen by keeping a positive attitude and working my hardest all the time. This will allow me to set a good example for them and push them to work hard as well."
Both of these teams are about opportunities. As the underclassmen are given a chance to show what they are capable of, seniors are excited and determined to be prominent players. Seniors are going to feel the pressure this year because they are responsible for filling roles and being the ones fans, coaches and teammates can really depend on.
Knowlan explained, "We feel as though last year's seniors left a very high standard for the way to act and we are all hoping to be able to fill their shoes. It is a very big responsibility to be a senior on this team, but we are very excited to have this opportunity."
Hockey season is always an exciting time for the community of Stillwater. Year after year fans pile into the St. Croix Valley Recreation Center during the regular season to ignite their ponies and help bring them to the grand state tournament. These loyal fans are definitely a driving factor in the momentum of the Ponies.
"Being able to cheer them on is such a privilege," Senior super-fan Taylor Hanson said. "Knowing that your team that you cheered on gets to play in the state tournament and the fact that all of their hard work paid off is such an amazing feeling as a fan."
Manning added, "As a fan you can expect, in my opinion, the best Stillwater boys hockey team in the program's history.  With this team, I'd being lying if I said we aren't expecting to bring back a state title to Stillwater in March."
Fans and players aren't the only ones itching to get the season started. Coaches are impatiently waiting to start the season off with a bang for two strong seasons: one regarding a strong revival and the other looking to continue their absolute dominance. Both girls and boys hockey will look to find their ground in developing new leaders and depending on returning competitors after many key players have graduated.
Coaches know the best way for their team to have success is to avoid comparing themselves to previous years, and find their own glory. Coaches are expecting their teams to discover what kind of team they are going to be regardless of the key players that were lost.
Lee Gillespie, the varsity girls head coach said, "Year after year each group has to develop their own expectations for themselves."
About the Writer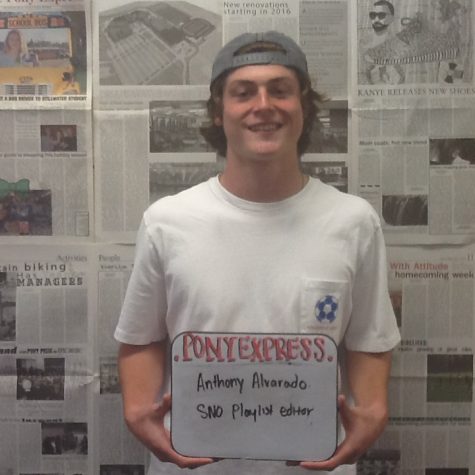 Anthony Alvarado, SNO playlist editor
Anthony is a Junior at Stillwater Area High school. Anthony enjoys adventuring and taking trips with his friends and family, he visits the boundary waters...