Adidas trend continues to grow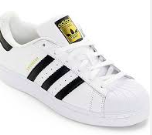 Hang on for a minute...we're trying to find some more stories you might like.
Within the past year, many celebrities have been sporting the athleisure look, including famous models Kendall Jenner and Gigi Hadid. Along with these sporty chic styles, they've been wearing a shoe that has since blown up: Adidas Superstars.

With the high demand for these minimalistic shoes, Adidas has had a large growth in sales, a 16 percent increase from 2014 to 2015. The prevalence of these shoes has caused for the start of many new collections and collaborations and the popularity of other shoe styles.

An example of another popular Adidas shoe is the Stan Smith. They were once popular in the early 80s, and as many trends do, they faded but came back. With their soft edges and minimal detail,  they add a slight vintage touch to a modern outfit.

"I am a huge fan of the Stan Smiths," said senior Ben O'Malley. "As much as I do like Superstars, they often strike me as a little boxy- as a guy with size 13 feet, it's very hard to pull off. That's why I love my Stan Smiths, they perfectly capture that vintage look I love so much."

Stan Smith is not the only famous person to collaborate with Adidas.  Other celebrities such as Kanye West and Rita Ora have collaborated with them as well, along with big name designers like Alexander Wang and Stella McCartney. On top of these collaborations, many stores have created exclusive lines, such as PacSun and Urban Outfitters. With these limited edition and exclusive items, teens are more likely to spend more money to achieve a certain timely look.

"I am willing to pay more for limited edition things and celebrity collaborations because it doesn't come back," said junior Gabby Kraus. "You can only get it for so long, and celebrities set trends, so why wouldn't you want their collaborations?"

"

I am willing to pay more for limited edition things and celebrity collaborations because it doesn't come back."

— Gabby Kraus

And while Adidas can be slightly more expensive, especially regarding some collaborations, they tend to have more of an appeal to younger people.

"While price absolutely isolates some potential buyers, they're generally in the same ballpark price-wise as New Balance and Sketchers, but with a much broader appeal- especially towards young people," said O'Malley.

With this appeal to those who are younger and price in mind, many are comparing Adidas to other big name brands, namely Nike. But among those who prefer fashion to function, they stick to Adidas, their pieces appear to be more trend savvy than other brands.

"I think the consciousness that Adidas has towards what's trending and fashion as whole really makes them stand out among the crowd," O'Malley said. "While I have nothing against brands like Nike, their designs and silhouettes don't really strike a chord with me."

Another thing that makes them stand out from other brands is the fact that they have grown their fashion forward collection, where as many other brands haven't. With athleisure becoming a big part of modern day fashion, it is important that other brands expand their chic looks rather than just focusing on sports wear.

"Adidas stands out because it's so different from other brands," Kraus said. "Adidas Originals are so fashion forward and different from other athletic wear."

Fashion, however, is not the only thing Adidas is good for. In fact, the Stillwater Ponies football teams uses Adidas for their jerseys and other team apparel, such as shirts, shorts and sweatshirts. Through an affiliate of Adidas, they receive a fair price for what products they utilize, as they were looking for a new direction for their uniforms in 2012, according to head football coach and history teacher Beau LaBore.

"I really like the jerseys," said LaBore. "The material that they use and the way in which they've constructed the uniforms, it's very tight, form fitting, and that's a benefit on the football field because it makes it more difficult for people to grab a hold of you. So, they've done a really good job with making these uniforms really small and flexible."

Whether it be for looks or for training, Adidas is continuing to grow in popularity. And with it's popularity, their variety is growing too. With brand new celebrity collaborations and high fashion lines coming out this New York fashion week, the brand is showing no signs of slowing down, so splurging on an Adidas item won't be something you'll regret doing soon.

About the Writer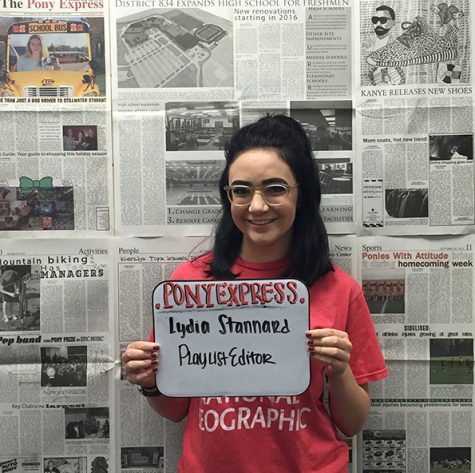 Lydia Stannard, Playlist Editor
Lydia is a junior and a playlist editor for the Pony Express. She has enjoyed singing and dancing from a young age, as well as theater, choir, makeup and clothes. She also loves to travel, shop, and listen to music.