Jacob Kosyakovsky graduates abnormally young
For most, graduating high school on time and ensuring that all of the necessary credits are taken care of can be a challenge at even 18 years old. From gym to art, the availability for wiggle room is extensively low and time seems like it is always running out. Senior Jacob Kosyakowsky defeats the odds and is now graduating at the age of 13 with all of the credits that he needs completed and will leave Stillwater Area High School with many college credits as well.
Kosyakowsky has obtained all of his credits to graduate from high school and has showed complete dedication throughout his journey to get there. Being this young and handling the ups and downs of high school portrays a unique characteristic of an above average teen. Plus, for Kosyakowsky it has been a fairly easy road.
For elementary school, Kosyakowsky attended the Math and Science Academy and after that, he went to Oakland Junior High school. He was above the average student even in his younger days. At Oakland, he was only 11 years old while taking science courses that most 9th graders took. Going into the high school, he had many credits already completed as well as an increasing maturity as he entered a school filled with upperclassmen.
Counselor Sandra Weaver said about Jacob, "The fact that he has completed all requirements for high school graduation at the age of thirteen and his high level of intellect.  I would also say his ability to fit in with the high school students who are three to six years older than him."
Kosyakosky's ability to remain extremely social at school, but continue to thrive in the classroom is quite admirable with someone of such high intelligence. He has the perfect balance between interacting with people in class and getting his work done promptly and exceptionally.
"
He is the rare combination of intelligence and enthusiasm. To Jacob, learning is fun. It never seems like its tedious or boring to him, there's sort of a joy about him that he shows in class that you don't see in many students."
— Micheal Kaul
History teacher Michael Kaul said, "When he needs to buckle down and get to work, Jacob can. But he is also a very social guy. He is also very much interacting with kids so sometimes he gets off task because that is kind of in his nature. He kind of has a playfulness about learning."
This year, Kosyakowsky is enrolled in five AP classes and CIS concert wind symphony, a full load of college level classes. In previous years, he has taken two to three more courses than the rest of his peers. According to James Keipp in the LA Times, "It's at least 30 percent more work than another class." To succeed in such rigorous courses, it takes many hours of long, hard work.
Kaul said, "He is the rare combination of intelligence and enthusiasm. To Jacob, learning is fun. It never seems like its tedious or boring to him, there's sort of a joy about him that he shows in class that you don't see in many students."
To graduate high school almost five years early takes a lot of drive and determination. Kosyakowsky said that his parents wanted him and motivated him to graduate early."They motivated me to study more and do well," he said. His sister, Leah, also graduated at a young age of 15 and Jacob will surely follow in her path.
Kosyakowsky has been able to enjoy the time he as spent at the high school and has a love for learning that is highly admirable by students. Kosyakowsky said, "I've been able to talk to people and make friends, so it [high school] has been good."
The future is extremely bright for Kosyakowsky and his motivation and love for the classroom will surely take him to unbelievable heights. Next year, Kosyakowsky will be attending the University of Minnesota at the young age of 14. Weaver elaborated on the rarity of having a student head off to college at this very young age.
He said, "I don't know what I am going to be. I am probably going to major in chemistry and then, I don't know whether I will go into engineering or medical school."
The accomplishments Kosyakowsky has had in the early years of his life are astonishing and only foreshadow the many accomplishments to come. With the motivation and support from his parents and the determination he holds for himself, he will continue his successful path through life.
Weaver described Jacob as, "[Jacob is] extremely organized, highly motivated and exceptionally bright.  I can honestly say I have never met a thirteen year old who is as mature and intelligent as Jacob.  Plus he is always very pleasant and respectful."
About the Writer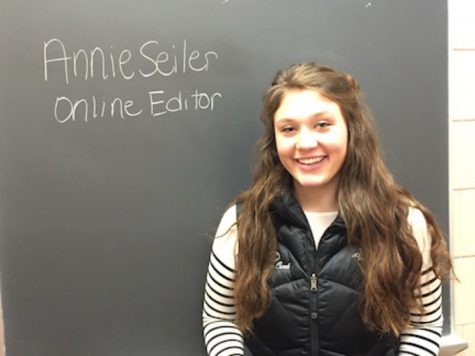 Annie Seiler, Online Editor
Annie Seiler is a junior in high school and is an Online Editor for the Pony Express. She is also the captain of the gymnastics team and is a part of Key...