Sneakerheads splurge for Yeezy Boosts
Hang on for a minute...we're trying to find some more stories you might like.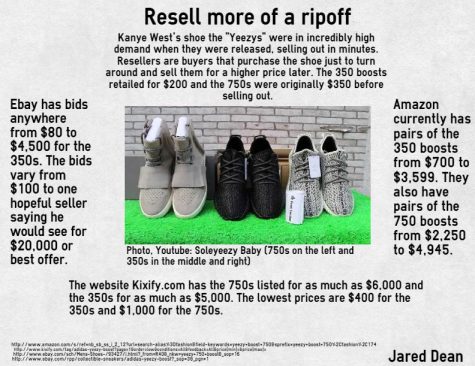 The Yeezy Boosts are an extremely well-selling shoe made by Adidas with collaboration of music producer and rapper Kanye West. The Yeezys seem to only be growing in popularity over the years and are showing no signs of slowing down.
The first shoes to be tied to the Yeezy name were the "Nike Air Yeezys", which were released on April 4, 2009 and were sold at $215 for each pair. There are five types of Yeezys in production: the Air Yeezys, the Air Yeezy 2s, the 350 Boosts, the 750 boosts and the 950 boosts. Adidas took over the production of the shoes after the Air Yeezy 2s and have since then earned nothing but success. In fact, in the third quarter of 2015 the "Pirate Black" Yeezy Boost 350s  brought in $2.3 million in Ebay sales.
Senior Jaden Zinda credits the success of the shoes with something as simple as the West name being tied to them, "Him and Kim [Kardashian, West's wife] are just such high people in society nowadays that people just want be be like Kim Kardashian and Kanye West."
Power couple Kim Kardashian and Kanye West have a combined 57 million followers on Twitter making their influence not only widespread, but insanely popular among fans, the youth and users of social media. Adidas puts out very little advertising for the shoe the couple's promotion of the shoe plays a crucial role in its success. Their promotion of the shoe is sometimes just as simple as Kardashian posting a picture of her family's Yeezys to Instagram or even a photo of her wearing the shoes. These pictures receive over 800,000 or sometimes even over 1 million likes.
"
The sales were just insane, people are reselling the original price shoes of $200 for $2000… It's just insane how much profit Kanye has made from his shoes throughout the shoes and his music career."
— Jaden Zinda
With the Boosts being such a high fashion item, their availability is scarce. With such a low availability there comes a group of people called "resellers" they are the people that will buy multiple pairs of the shoe and resell them for a much higher price.
Junior Adam Larson commented on the idea of reselling, "I don't like resellers because resell value can be like a thousand bucks and that just ruins it for everybody else."
The Boosts sell out in a matter of minutes for retail, but if one looks on websites such as Ebay or Amazon one can find them for sale. The prices will most likely not match the original retail price, but if one wants them bad enough and is willing to pay large amounts of money for the shoe they can get them. Amazon has them listed for $2,145-$3,599, while eBayhas bids ranging from $80 to $4500 for the low top Yeezy 350 boosts which were originally $200.
Zinda commented on the sales of the shoes, "The sales were just insane, people are reselling the original price shoes of $200 for $2000… It's just insane how much profit Kanye has made from his shoes throughout the shoes and his music career."
"Sneakerheads" are people who hunt, search, stand in line and are all about shoes. They are most commonly known for their interest in the brand Jordan, but in 2015 the king was dethroned. The Yeezy brand shoe sales had surpassed that of Jordan. When the Yeezys went on sale in 2015 they were crashing websites, filling stores and completely selling out in only a matter of minutes. People wanted to get their hands on a pair of this seemingly sudden red hot item in the fashion world that turned Kanye West into not only a legendary rapper and producer, but also a fashion icon.

About the Writer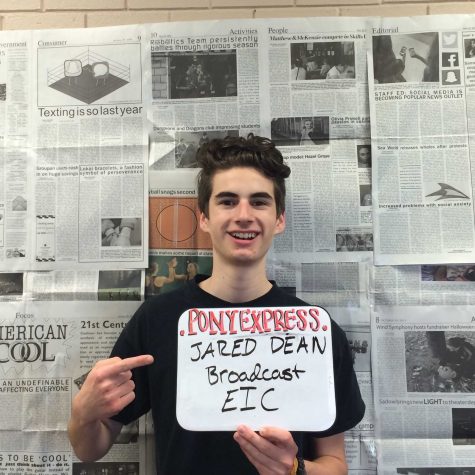 Jared Dean, Broadcasting Editor-In-Chief
Jared is the Broadcast Eic for the 2016-2017 year. Dean was a news anchor for his junior year and is looking forward to another great year on the broadcast team. He enjoys pizza, watching/talking about sports, Netflix, and hanging out with his friends. He is looking to pursue broadcast journalism in college to achieve his...