High expectations for 2016 lacrosse season
Last year's lacrosse season did not go as well as expected. They had a solid team but fell short losing to Mahtomedi in the section tournament. This year will be a lot different. They are a lot younger and less experienced but they have brought in a new coach, Tom Howe. This year's expectations are high again. Their goal is to make a deep run in the section tournament and hopefully make it to the state tournament.
A new coach brings a lot of good things to a team. He can bring a new perspective, new energy, new motivations, different strategies and more. The team felt it was good to change it up and get a new perspective in there. They had run the same offense for the last five years and the other teams in the section were starting to figure it out. A change in coaching can be great for a team, it can bring a lot of new strengths to a program.
The team looks to improve from last year's performance and success. The team thinks it's great to get new leadership into the program who can bring a different look at things, mix it up and make the team less predictable on the field. Having a new offense and new coaching scheme will make it tough for other teams in the conference to game-plan against them. If a team does the same thing over and over again, it's easy to know what they plan to do and it makes them easier to stop.
"
A new coach should bring new knowledge to the game. He was an assistant coach on the Irish men's national team so he knows a lot about the game."
— Tommy McGuire
Senior Max Evenson said, "I think a new coach is going to change a lot. I've talked to him a few times about what he plans to do and what he wants to implement in our new offense. He has coached a lot of levels before including nationally so I believe he will do a lot of good things for us."
The team last year had a lot of good senior leadership. This year they still have some seniors, but not as many. Younger players will have to step into certain roles in order for the team to succeed. A new coach brings new perspectives and a new mentality to the program which can be exciting for a team. Learning a new system and having a new leader is good for a team looking to switch it up and improve.
Sophomore Tommy McGuire said, "A new coach should bring new knowledge to the game. He was an assistant coach on the Irish men's national team so he knows a lot about the game. He brings a new offensive look as well which will be good."
The team lost a lot of seniors last year, but will also gain back players from injury such as Colin Corcoran. The team has two seniors committed to play college lacrosse, Corcoran and Evenson. They have good young talent as well. The team has a lot of juniors and some sophomores with varsity experience. The combination of older and younger talent will in hopes pay off in the end. The team looks to be one of the top teams in the conference this year and hopes to knock off some tough opponents like White Bear and Mahtomedi.
Junior Marcus Darby said, "We all know what happened last season and we are putting in the work so it doesn't happen again. We have some really good seniors and a lot of younger guys ready to step up. We have the talent to beat some of the powerhouse teams in the conference and hope to take the season as far as we can."
About the Writer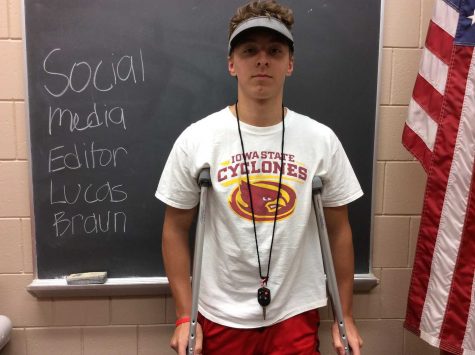 Lucas Braun, Social Media Editor
Lucas Braun is a junior at Stillwater High School. He plays football in the fall and basketball in the winter, spring, and summer. He enjoys watching sports...