Konigson commits to play D1 hockey
Hang on for a minute...we're trying to find some more stories you might like.
It is game day. Her peers are not surprised when they see her walking down the halls in her hockey jersey and wearing a broad smile. As the hockey season begins,  junior Olivia Konigson remains humble about the next step in her hockey career, while wowing her many supporters.
Olivia recently verbally committed to Quinipiac University, a private university in Connecticut to play division one hockey. Being able to continue her hockey career outside of high school is one of the many reasons Olivia has excitement to start at Quinnipiac in the fall of 2017.
Olivia said, "It's going to be a great new experience, the hockey team is great, it seems like they have a great group of girls and the coaches are amazing there. The academics are great so I think just like the fact that I get to go play hockey at a great school is really exciting."
Working her way up
Olivia first started hockey at the age of seven and instantly knew she wanted to keep playing. Joining hockey has easily changed her life for the better. It has opened many new opportunities to help her learn as a player and teammate.
Olivia said, "It was because one of my friends wanted to play and she asked me, so I said I thought I would just try it, and then I stuck with it. It was so fun when I was little and it was something that I knew I wanted to do for as long as I could."
"
It's going to be a great new experience, the hockey team is great, it seems like they have a great group of girls and the coaches are amazing there. The academics are great so I think just like the fact that I get to go play hockey at a great school is really exciting."
— Olivia Konigson
It is not easy to become a varsity athlete, and Olivia has stopped at nothing to reach her goals, and create new ones. Olivia puts one hundred percent effort and hard work in each time she plays hockey or learns something in school. Her hard work never goes unnoticed by her teammates, family and coaches.
Tony Scheid, Stillwater girls hockey coach said, "I think she's grown by leaps and bounds. She has such a great work ethic and such a great attitude and since she has come, she's been on our team since eighth grade and she's grown so much psychically and she's matured so much mentally, it is all because of her work ethic and her attitude. She's a lot stronger now obviously than she was in eighth grade and a lot faster, and thats because of all the time she's put in on training and working."
Inspiration
Not only is Olivia a star athlete, but she also performs well academically. Olivia is in Stillwater's National Honor Society and plays on the varsity lacrosse team. Since Olivia committed to Quinnipiac as a junior, her supporters are able realize her dedication to the game and to her education.
Michelle Konigson, Olivia's mother, said, "She wants choices in her life so she sets high goals for herself. She works really hard and takes a lot of pride in her schoolwork and her performance on and off the ice. She has seen the positive results of that hard work and it has afforded her many opportunities both academically. Case in point, a full hockey scholarship to Quinnipiac."
Having supporters like her friends and family allow her to become a better student and athlete. Being able to hear the cheers of supporters will encourage many athletes to do better, especially Olivia. Finding something to improve on or setting new goals doesn't challenge her, it motivates her. With her supporters, Olivia is able to succeed.
Olivia said, "Definitely my teammates are my supporters, I think that's really important and obviously my parents and family are people that supported me throughout, as long as I can remember. They have always helped me get to where I am."
Future at Quinnipiac
Quinnipiac is known for their successful hockey program and excellent academics. The women's hockey team is currently ranked number one in the ECAC conference for the 2015-2016 season. The team is 5-1-2 in the season, followed by Harvard University and Dartmouth. Olivia is looking forward to continuing her love for the game at a college that will benefit her athletically and academically.
Michelle explained, "I hope for her to continue to work hard to become the best she can be- both academically and athletically. I hope that she can fulfill her expectations to be a major contributor at Quinnipiac in her freshman season and beyond. She aspires to be a part of the US National Team and will continue to strive towards that goal. I think Quinnipiac and their coaches are the absolute perfect fit for her to achieve all of those things."
It is no doubt that Olivia will succeed at Quinnipiac with her work ethic, positive attitude and perseverance to be better as a player and as a student.
Sheid said, "I think they're going to get a blue-chip defensemen, I mean, she has great height and reach and very strong and fast so she's going to be a great division one defensemen. She's got those physical attritubes but also she's got the great positive hockey sense and the high hockey IQ where she really understands the game, I see her going into Quinnipiac's program two years from now and somebody that can step in and help them right away, maybe even be on their power play as a freshman."

About the Writer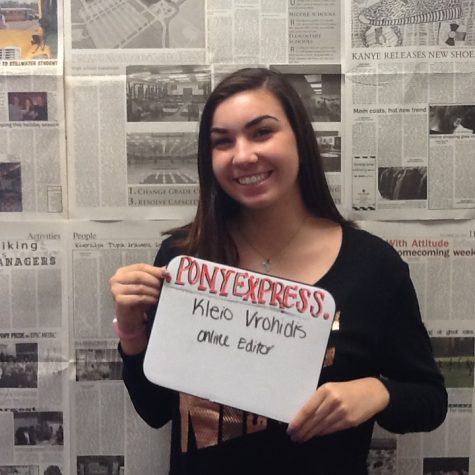 Kleio Vrohidis, Online editor
Kleio Vrohidis is a senior at Stillwater Area High School and is an Online Editor for the Pony Express newspaper. She plays soccer for her school and...