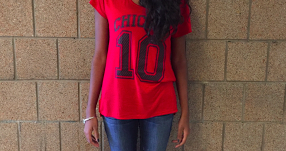 Dress code lacks concrete rules
When a student's school day is interrupted because their shoulder is showing or their shorts are too short, it is telling students that hiding their body is more important than their education. This is telling students that making sure boys have a distraction-free learning environment is more important than other students education. This tells people that boys are more entitled to an education than girls are, and that is not acceptable.
Stillwater Junior High's dress code is clear and defined, but when it comes to high school its completely different.
 At both the junior highs, it is strictly enforced and the rules are set in stone. Hats, short shorts, spaghetti straps and short skirts are not allowed. If students do not abide by these rules they could get in school suspension or even get sent home.
At the high school, students generally don't understand the dress code.
"I know there is a dress code, but I'm not sure what it consists of," said junior Sarah DeCorsey.
Schools waste a lot of time trying to enforce a dress code which mainly focuses on preventing young girls from distracting adolescent boys from learning.
"Typically as long as students are following the guidelines of the hand book they are free to wear what they like," Principal Rob Bach explained.
The most common violation of the dress code is wearing a shirt that is offensive or promotes illegal substances and the repercussion of this is having the student turn their shirt inside out for the rest of the day.
"They have to turn their shirts inside out because they shouldn't have chosen to wear that in a learning environment. Its also slightly embarrassing to walk around school all day with your shirt inside out and your tag sticking out," junior Megan Shanely explained. "I've never had to turn my shirt inside out,"  Shanely added.
Students are unaware of what the dress code is for sophomores, juniors and seniors because it isn't established clear enough when they enter the high school.
"The dress code is put in place so people wear appropriate attire to school," junior Sarah DeCorsey said.
Also hats are not allowed at the junior highs because it causes problems with students taking others hats and taunting them. While at the high school students have matured past that phase and they are allowed to wear them. Some teachers may ask their students to put their hats away while present in their class because they believe its a distraction for the other students.
"
Typically as long as students are following the guidelines of the hand book they are free to wear what they like."
— Rob Bach
"We haven't had a lot of people question the dress code," Bach added.
After talking to many high school students it is without doubt that most are unaware of any dress code that pertains to them or even what the dress code is.
"I don't know what the dress codes about," junior Megan Shanely said.
High schoolers have proper attire that they wear on a daily basis while attending class. Students in general know what is acceptable to wear to school and what is not.
In Stillwater's parent and student handbook it is very hard to find any policies about the dress code and is unclear. Several people did internet searches and looked on the districts website and were not able to find anything that would give them any knowledge on the dress code. Clearly this is something that needs to be addressed.