Pops concert brings musical year to a close
An end of the year extravaganza is what the choir students look forward to as they breach closer to the close.
On May 21, the Stillwater choirs will perform once again in their annual Pops concert. The concert consists of three choirs. The choirs involved are varsity choir, belle chanter and concert choir. Each choir chooses one song to perform for the audience. The night is filled with a few smaller acts as well. At the end of the night, all the choirs come together to perform one grand finale.
Senior Emma Lundgren has been involved in the Pops concert since the beginning of her high school career.
"I can still remember my sophomore year Pops. We sang 'Black Horse and a Cherry Tree' by KT Tunstall and we wore jeans and a black shirt and a red bandana, and it was real cute," said Lundgren.
Lundgren is president of the belle chanter choir which is an audition choir made up entirely of girl singers who are divided into two main sections, alto and soprano.
"Since we are made up of all girls, we try to sing songs that exude the idea of a powerful woman. Like last year, we sang 'Wings' which is very powerful," Lundgren said.
To add spice to the performances, the belle chanter choir is known for their dance moves during their songs.
Senior Kalley Sobczak, one of the social chairs of the choir, said, "Belle chanter has some wicked moves. We tap into some hardcore choreography which makes the whole thing so much more exciting and more fun to watch. When you think of a typical choir concert, you think of opera type music, but Pops is so much more different than that. Pops is a concert that reflects modern day singers in a way that is attractive to modern day listeners in my opinion."
The concert choir works together to decide on a song that all the choirs sing together at the end of the concert.
"It is so cool and unique," said Lundgren. "I just love how we all have this mutual love for singing and music, and we can all come together at this time to share our love together. We don't get to intermingle between choirs that often either so the concert also gives us this opportunity to come together in this one inclusive choir group to perform beautiful music."
The Pops concert is the last choir concert of the year.
"It's like a last hoorah," said Sobczak. "It will mean a lot more this year being that I'm a senior, and it will be my last Pops with all my girls that I have grown so close to. I can't wait to perform but I don't want my choir career to be over."
About the Writer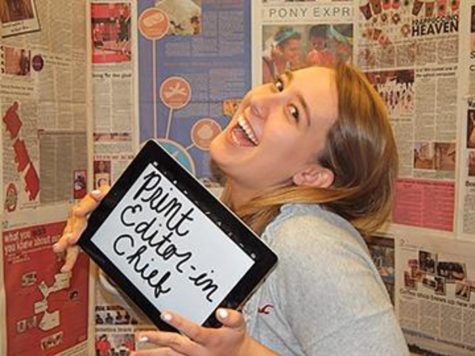 Jessica Thomas, Print Editor-in-Chief
As an upcoming graduate in the 2015 school year, Jessica Thomas is taking advantage of every opportunity thrown at her. Jessica is an active employee at...