Erf family raises award winning dairy cattle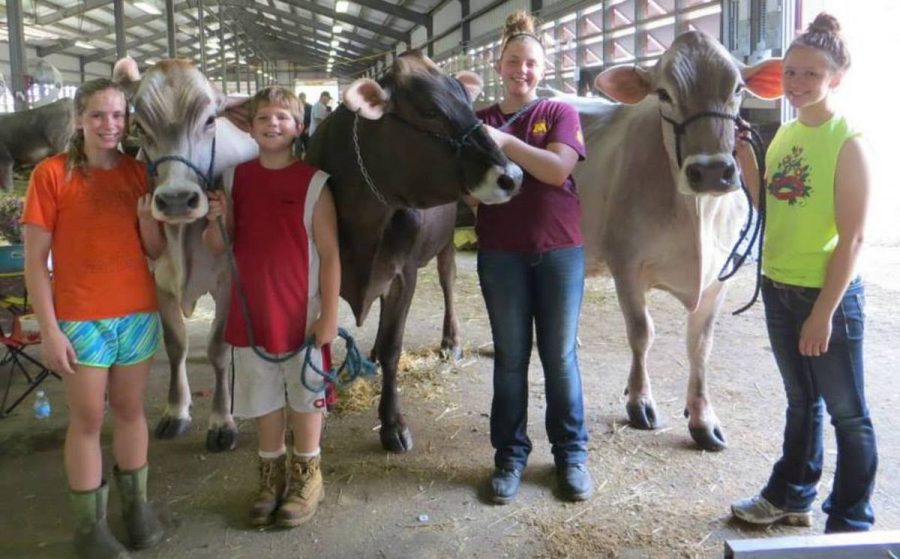 Kelly Roehrig
January 10, 2014
In the middle of Oakdale, amongst hundreds of houses, sits the Erf family farm. On the farm, there is a sizable barn filled with award-winning dairy cattle and a humble home where senior Kristin Erf, her parents and siblings Mikayla, Kelsey and Billy raise dairy cattle to show at fairs and expos throughout the midwest.
This time of year the Erf family only has one thing on their minds, the World Dairy Expo held in Madison, WI in the first week of Oct.
"There are competitors from 92 countries, the people of course not the animals," said mom Kathy Erf, "as well as around 7000 attendees and 2300 cattle."
The World Dairy Expo offers many opportunities for the Erf family.
"It's a homecoming of sorts," said Kathy, "we have been a part of it for so long, we've made some really good friends."
It also allows for the Erf children to expand their awards, which they display proudly on top of their fireplace.
"I was Grand Champion at the Washington County Fair this year," said Kristin. She managed all this while her cow was "in heat," making her job of preparing the cow much harder.
Being crowned Grand Champion at a dairy expo is no easy feat.
"To be considered a winner for dairy cows, the cow must be sharp and angular as well as feminine looking," said Kathy, "It is all based on conformation."
Through their involvement in 4H, Stillwater Swim and Dive and FFA, the Erf's created "Camp Erf" three years ago to "recruit help with preparing for competitions," said Kristin.
Camp Erf has become very important to its participants.
"Each year a group of us lives at the Erf's for the week of the fair and help out; we wash cows, feed all the animals, show them and have lots of fun," said senior Megan Krieglmeir. "It has taught me a lot of responsibility over the past years, which has helped me a lot."
The Erf family has also made its impact on senior Rachel Kraus, who met Kristin through their involvement with FFA.
"It is really fun getting to go to the competitions together," said Kraus. "Although I compete for small animals, pets and parasites, and she competes for dairy cattle, she has really taught me to love cows even more."
It is no secret that growing up on a farm has impacted the Erf children.
"I would say that growing up on a farm, you learn responsibilities," said Kristin, "Managing your time is very important because chores have to be done, so you learn to work your homework and sports around that."
"You learn a lot of dedication," said Mikayla, "you have to work hard at everything you do."
Farm life has been so important to the Erfs that all of them plan to stay connected to farm life in some way.
"Billy wants to take over this farm," said Mikayla. "I really want to own a farm of my own when I'm older."
"I'm not too sure I want to live on a farm in the future," said Kristin, "but I will always call this one home."