Raelynn Heintz leads the way for FFA
FFA is lead by senior Raelynn Heintz who has been a member of the group for three years. The FFA team is one of the best in the state at what it does given its ample amount of members compared to rural schools.
Heintz is a senior on the FFA club, which is a club that goes to state and national conventions in order to learn about farming, agricultural science and other career opportunities in the farming business. They compete against other schools nationwide in a variety of events in order to become ranked.
Heintz has been a member of FFA since she started attending the highschool in 2012. She sees her future evolving through FFA and has enjoyed her time with the club.
"FFA is a national organization that helps students gain hands on experience towards career related events, so they can further their experience and also have colleges take notice so they can get better jobs in the future," she said.
"
FFA is a way to experience new things and I've met a lot of my close friends and people across the country that I love."
— Raelynn Heintz
Heintz enjoys FFA so much because in the past she has experienced continuous success and has a tight knit friend group to go along with her accomplishments in FFA.
"FFA is a way to experience new things and I've met a lot of my close friends and people across the country that I love. Its important to me bcause I am majoring in environmental science and wouldn't know what I would want later in life if it wasn't for FFA" she said.
Heintz is the president of the club and is very dedicated to what she does, putting in lots of prep. When prepping for her big meetings, it takes a couple hours out of her night.  Some kids might be preparing for a sport and training physically, she prepares mentally.
"It means a lot to me, its a way for me to help others find what they wanna do with their life, because I know taht without FFA I wouldn't know what I would wanna do with my life and hopefully I can have that effect on someone else," said Heintz.
FFA competes in mass conventions, the students earn this funding from doing community activities such as participating in the county fair, running the childrens barnyard and also running the miracle of birth center at the state fair.
"Variety of things such as leadership workshops for them to go to, tours amongst the agribusiness, really keeps the club members busy,"said FFA advisor Stacy Brown.
Heintz is a senior and a third year participant in the FFA club while also being the president of the club under Brown and Glen Boettcher. Heintz has been able to find her career path through participating in FFA and recommends it to other students that might not be participating in other school activities.
About the Writer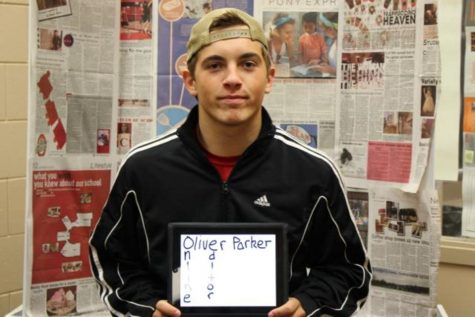 Oliver Parker, Online Editor
His full name is Oliver James Parker, his parents Marilyn and Tim are both British. He was adopted as a baby from Fridley, Minnesota. He enjoys the weekends...