Love your Melon hats are warm and benefit the community
A "polar vortex" is crashing down on the United States and the people need protection from the wind. At the same time, children with cancer need the therapy and comfort that comes along with a locally made, 100% cotton hat.

Love Your Melon is a non-profit organization run by Zachary Quinn and Brian Keller, students at University of St. Thomas. The foundation aims to put a hat on every child battling cancer in America. For every hat sold, another is given to a child battling cancer. The hats are made in St. Paul, but sold all over the country.

"How doesn't it [benefit the community]? We are able to give back to a lot of people. I think the company is in line with their mission statement," said Dennis Lindsay, adviser for the SAHS program.

Love Your Melon has an ambassador program – over 900 college and high school students participate nationwide. These programs are crews of individuals who carry out the mission and events in the community. College and high school programs carry out in-person sales events and host donation events.

"Abe Masters spearheaded the effort and sparked my interest. He asked me to be the adviser for students. I haven't done too much but it's a cool organization," added Lindsay.

Since 2012, Love Your Melon has given and sold over 40,000 hats.

"I got one to support the cancer foundation and because my dad wanted one," junior Tanner Lau said. "Mainly because I love my melon, though."

On the Love Your Melon website, there is a drop down menu of all the high schools that are involved in the ambassador program. The Stillwater program has a goal of getting credit for over 100 sales by the end of the school year.

"Basically we tell people to buy them and use our team for that. If we sell over 100 by June, we give just as many back. We'll do something like dress up as superheroes and deliver them to the kids," said senior Tyler Malmberg.

"

Abe Masters spearheaded the effort and sparked my interest. He asked me to be the adviser for students. I haven't done too much but it's a cool organization."

— Dennis Lindsay

Each hat is made of 100% cotton and machine washable. A small leather patch with the brand name and logo is sewed on. All products are made entirely in the United States because Keller and Quinn believe in keeping and creating jobs for the citizens. Shirts, scarves and ball caps are also sold.

"Our beanies, scarves and shirts are made in St. Paul, Minnesota. We have worked intensively to create soft products for children battling cancer as well as innovative ones for our customers," said Quinn and Keller on the website.

The company was also inspired by Zach Sobiech to give children "adventures". Sobiech told Keller and Quinn that he wanted to go "up in the clouds" like his song, before he died. Keller and Quinn were able to take Sobiech on a helicopter ride when he had just weeks to live. The Love Your Melon therapeutic adventures include plane rides, helicopter rides, superhero dress-ups, boat rides and limo rides.

"Entertainment and distraction can go a long way in a child's recovery process. It can decrease their stress levels and create positive thoughts that improve their chance of survival. According to the Cancer Treatment Centers of America, therapeutic treatment may boost the immune system, stimulate the heart and lungs, relax muscles, relieve pain and balance blood pressure," said Quinn and Keller, as stated on the Love Your Melon website.
About the Writer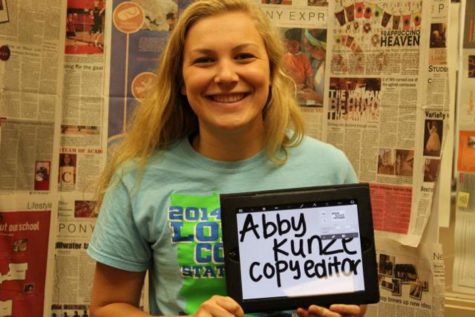 Abby Kunze, Copy Editor
Abby is a junior at SAHS. She is a very dedicated swimmer and a member of Youth United Way. In her free time, she is most likely reading or listening to...