Local band hits the C-Notes
Summer sun had little to do with the good mood that graced senior Colin Campbell on one particular weekend in early July. He and his brothers had finally made it, a long way from their home in Stillwater, to the Thunder Bay Blues festival in Canada. The boys had been playing music together since their childhood, but it has only been recent years which have brought them together to play small gigs locally, until they were discovered.
Colin said it was Shirley Smith who organized them properly.
"I have always played with Cameron," Colin said, "but having Evan on drums was a foreign idea to me." He explained how Smith's deadline made them choose a name.
"We just put down The C-Notes," Colin said, "We were indecisive- go figure."
He said, "Eventually, to become more distinguished from the 30 trillion C-Notes out there, my name was thrown out in front."
As it stands, the band consists of Evan, Cameron and Colin. Evan, the youngest at 14, is the drummer. Colin, the middle child, sings front and center. Cameron, 19 and the oldest, plays on bass.
Plenty of gigs came before the Thunder Bay festival.
Evan Campbell said, "There's been Hambone Blues Festival, a couple of places in downtown Memphis, Tennessee, on Beal Street, Famous Daveys, Driftwood Char Bar and Pub 112."
Their situation, the brothers realized, is unique. They all spoke about how they were so lucky.Evan said, "We get to travel and make and experience memories that we can look back on in the future together as brothers also we all get along so there's not really any issues or disputes. Being brothers, we can read each other when we play music. What I mean by that is we can tell what the other person is planning on doing with just a glance and not many bands can do that."
Performing on stage does nothing to put off the brothers either. All of them said they love the rush accompanied with playing live music.
Cameron Campbell said, "My favorite thing is the rush you get when you hit that first note. It gives the whole feel for the show and the crowd." He continued, "From up there everybody seems to like us. Especially Colin's solos."
"
My favorite thing is the rush you get when you hit that first note."
— Colin Campbell
Evan said, "Once you get past the stage of being scared it's one of the most fun experiences."
Through their manager, they have had the good fortune to meet and play with bands who they have grown up idolizing. Colin said, "[At the Bay Blues Festival] we got to hang out behind stage with all of the bands and no one was cooler than anyone for being bigger or more popular."
He said, "I got to talk to some people whose music is on my iPod. It was a cool experience."
Colin mentioned that he has been working on a project for some time that will benefit the local community and maybe even SAHS students.
He said, "For school and such I have had a major hand in creating a nonprofit organization called Blues U., which gathers some of the finest local musicians to mentor and direct ensembles of kids that we find from all over the globe."
The Campbells are taking notes from some of the biggest names in blues music and having the backing of a team who believes in them will lead them far. This is no where near the end of the road for the brothers. They are only just getting started.
About the Writer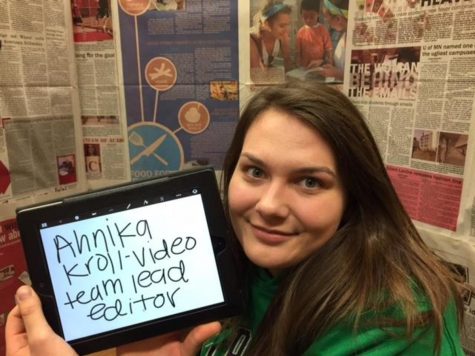 Ahnika Kroll, Video Managing Editor
Ahnika Kroll is a senior Video Managing Editor. As well was being an editorial leader for the Newspaper, Yearbook and Broadcast team, she somehow finds...