NHS puts on a successful winter Coffeehouse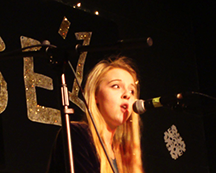 A glow of a light calmly hits the performers' face as they sing different melodies and tunes. The walls are lined with sparkling snowflake cutouts inside a black room with a large sign above the stage in big letters spelling out "COFFEEHOUSE '14" with Christmas lights around it.
 Coffeehouse is a performance put on by the National Honor Society. It has musical guests and performers that audition through the school to get a spot. It was held on Dec. 12 with shows at 6-8 p.m. What makes it special is the fact all profits made during the night are donated.
 This year, the money went to provide school supplies and necessities for the Beverly Girls Empowerment Academy in Kenya. The school supports about 40 young girls who are in kindergarten through third grade and are trying to create a better life for themselves. Senior Megan Wallace's brother lived in the country for roughly six months and became close with the family who started the school.
 Wallace said, "Every day when he would walk to the farm he was working with, he would always see the girls out playing and singing with each other. When he got back home, he decided to do everything he could to raise funds for such a good cause."
 Several weeks before the showing, the NHS officers held auditions, the acts were a wide variety of talent. They ranged from the Davis sisters, to science teacher Andrew Weaver and all the way to groups of friends looking to entertain.
Senior Sophia Portelli, president of NHS said, "Coffeehouse is a lot of work, I mean hours and hours and hours of work but it is all worth it in the end. I think all the officers were sad with losing so many great acts last year, but they kind of came out of the woodwork this time and created a whole show full of incredible talent."
 The performance is what everyone seems to notice, but the NHS officers are the ones putting this magical night all together. At the end of the night he NHS officers, Abby Lange, Brady Nahkala, Jayna Davis, Matthew Treacy, Jonathan Luk and Kallie Quist had a surprise performance to the song "Fergalicious".
 Senior Marla Martin said, "My favorite part was having the NHS officers put on the aftershow, it was unexpected and it was really good, I've been to it before but this year it was new and exciting."
 Seniors Matthew Treacy and Cora Sutherland were the emcees for the night. The witty and funny comments they came up with are what seemed to pull the entire night together. This year's Coffeehouse was one to remember and most people are looking forward to the one presented in the spring.
 Sutherland said, "I am glad people laughed here and there but my favorite part was how everyone came together to have a good time and how something so enjoyable was beneficial for the girls' school in Africa."
About the Writer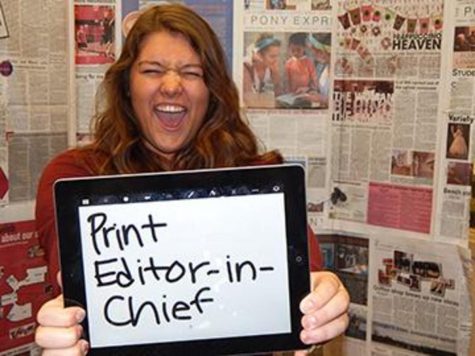 Lexie Sherrick, Editor in Chief
Lexie Sherrick is graduating in 2015 and ready to face her senior year. During the fall she will be tennis captain and participates as a speech member...