Fitbit, new fitness craze
Fit bits are small slim bands that go around your wrist, they track how many steps you have taken during the day, weight loss, how much sleep you got the night before and tracking your food intake. There are many different types of bands such as the Flex*, Force*, One* and Zip*. 
Fitbit Flex is the newest personal fitness tracker in the company's lineup of the bands.The flex Fitbit comes in all different colors, ranging from black to pink. During the day, it tracks calories burned, distance and steps. At night, it tracks how long you have slept. There is a an app for Apple and Android and it syncs your stats wirelessly. It a great band to show real time progress.
"
"I chose the Fitbit over the fuel band due to the fact that I wanted the best value for my money. "
— John Huntley
The Nike Fuel band and The Fit Bit are very similar in price and what they do, expect the Fit Bit tracks your sleep. Some are made water resistant but not water proof. Another feature the Flex takes from the FitBit One is its ability to track the length and quality of your sleep plus how many times you woke during the night. The Flex is much more reliable for sleep tracking since it is already strapped to your arm. That means you can wear it straight to bed and don't have to mess with a separate armband like you do with the Fitbit One.
"I chose the Fitbit over the fuel band due to the fact that I wanted the best value for my money.  I enjoy my Fitbit a lot better. The fit bit tracks your sleep, counts calories, keeps track of weight, counts steps, records miles and much more. Also personally I think that the fit bit is more comfortable and a smaller profile. I can wear it during my cross country races and I don't have to worry about it getting in the way, " said senior John Huntley.
The device calculates this by factoring in your age, height, and weight, which you punch into a linked Fitbit account online.
"One thing I enjoy about my Fit Bit Flex, is that I am able to change the color or the band whenever I would like. Another thing I like about it, is that it syncs to my computer and my phone perfectly and it works all the time. And it's nice that it's waterproof so I can always have it on my wrist most of my day. I am always surprised to see how many steps I have taken throughout the school day," said Senior Rose Bruchu. 
The Fit Bit helps tracks your progress whether you are doing your daily routine or you are training for a sport. Athletes are starting to invest in the bands.
About the Contributor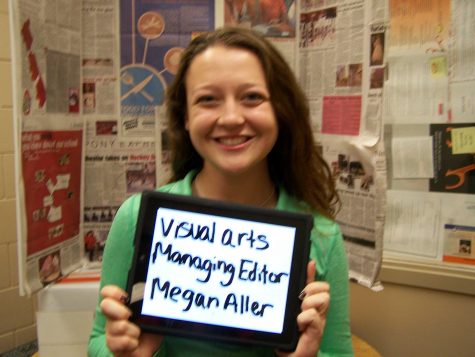 Megan Aller, VAME Manager
Megan is ready to graduate this up coming spring and eager to become a Nebraska Husker, fall 2015. She is a second year returning student on The Pony Express;...