Mathisen makes musical magic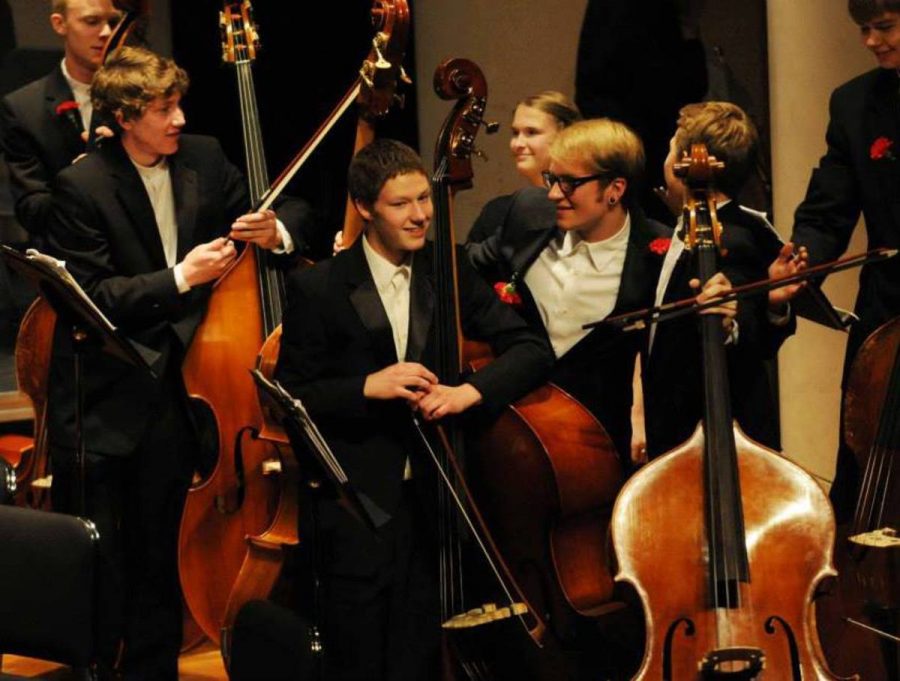 Senior Nic Mathisen is a musical genius at Stillwater Area High School. Mathisen has participated in the school's Concert Orchestra and Concert Choir, along with various outside of school musical programs including playing cello in a string quartet, playing in the Bethel University orchestra and a few others.
Although Mathisen lives in White Bear Lake, he is happy to make the 30 minute commute to be a part of SAHS's excellent music program, only showing a small amount of Mathisen's extensive dedication to his music.
Mathisen is known around the SAHS music programs, and admired by his peers.
Junior Jessy Nelson said, "I know that he is a very talented musician. Nic is known for his talent, work ethic and crazy devotion to music."
Mathisen does not limit himself to only one instrument, but continually improves his talent by learning the art of numerous instruments.
"I started playing cello in tehnth grade and started taking it a little more seriously in eleventh grade when I was asked to play in a string quartet at the Minnesota State Fair as well as a couple community gigs. I started playing bass in sixth grade at Crosswinds Arts and Science school, French horn in eleventh grade in pep band at Stillwater," said Mathisen.
Although it is a difficult task balancing all of his musical commitments along with schoolwork, Mathisen continues to devote most of his life to music.
"I do everything music I can. I do Concert Orchestra and Concert Choir every day, I play cello in a string quartet Mondays and Fridays before school, Mondays after school I play in a small ensemble, Silver and Bows with some of my friends," said Mathisen.
"I play Principal Bass in the Bethel University Orchestra, Tuesdays and Thursdays after school I have Chamber Orchestra, Wednesdays I play in the St. Andrews Senior High Choir and Orff ensemble as well as Principal Bass of the St. Paul Jewish Community Center Symphony Orchestra because the conductor asked me to and I could not turn him down." He doesn't stop there.
"Saturday mornings I play Principal Bass of Minnesota Youth Symphonies and in the afternoons I have my lessons, Sundays I often play in orchestras at different churches and then in the afternoons I play in the Young Musicians of Minnesota. That's just my regular, year long schedule, but usually I'm doing 2-3 more project orchestras that I'm asked to play in," Mathisen explained.
Mathisen was accepted to Oberlin College and will be attending in the fall of 2014. He is excited about how this will further his musical career.
"I plan to play in a professional orchestra as a career. Oberlin is among the best conservatories in the world and I look forward to going there next year," said Nic.
But getting accepted to Oberlin was no easy task. It required hard work and dedication on Mathisen's behalf.
"As far as the audition goes, I did practice for many many hours very tediously, and I spent months wondering if I would ever be successful at doing what I love, but when the audition came, I just acted like myself. I had a great conversation with the judge and I treated the audition like a performance, playing my heart out and showing him what I had to offer the school. I guess he thought I had something to bring to the Oberlin Conservatory. Don't get me wrong, my audition was far from perfect, but they don't look so much at that. They look at what you can bring to the school and the orchestra," said Mathisen.
Mathisen is planning to continue his musical career throughout college at Oberlin Conservatory in Ohio, and hopefully long past his educational years.