Girls swim captains appointed for next season
"A team together is a winning team," junior Maddie Reed said. The girls swim season came to an end, and the five new captains for the 2023 season were announced. Juniors Annie Gritters, Leah Cody, Maddie Reed, Norah Naajtes and Paige Schmit were voted to lead their team.
Toward the end of the season, the team voted for five new captains to lead them for the following season. During the annual swim banquet, the captains from the ending season announced the girls who will be taking their spot for the following year.
Head coach Brian Luke described the athletes as being very astute in selecting their leaders.
The title of captain is something these five have been hoping for and working towards over the years. Their effort and dedication was seen by their team, the respect and appreciation their teammates had for these five reflected when the final votes came through.
"They showed evident traits throughout the season that showed they would be well fit to be captains," senior and 2022 season captain Katelyn Stack said.
Captains from previous seasons have left a mark on these five and they hope to incorporate their leadership and influence by including everyone and pushing people to do their best.
"My sister Caroline was a captain and she was out for most of the season because of injury. I feel like being out of the water allowed her to connect with some of the JV girls more because she could see them more. She formed really good connections with people not necessarily on her side of the pool," Reed said.
"Eva Jons was so nice to every single girl on the team and tried to include as many people as possible," junior and 2023 captain Annie Gritters added.
There are 80 girls on the swim and dive team and making every one of those girls feel they have an important role lies on the captains' shoulders.
"They're all very nice people, cheer for everyone and are very inclusive," senior and former 2022 captain Anika Wright said.
The captains hope to bring everyone together and make sure there are not as many cliques. Bringing JV and Varsity girls together, including the middle schoolers, ensuring everyone is heard and feel they can speak out is something very important to the five captains.
"
"A team together is a winning team.""
"Communication and being there for one another and open to make friends is really important," junior and 2023 captain Leah Cody said.
"I want to be authoritative and a leader but, I still want girls to trust me and not be afraid to tell us stuff," junior and 2023 captain Paige Schmit added.
There are many traditions the team has carried throughout the years and the captains hope to keep them in place. "All the captains like to start off with a skit," junior and 2023 captain Norah Naajtes said.
Many of these traditions help to keep the team bonded, as well as help them get to know one another better and brings positivity.
"Support is a very important trait for a team," Naajtes added.
The swim and dive team has a prestigious record with 195 consecutive dual meet wins and placed 4th in state. To continue the teams success the captains hope to motivate and support their teammates throughout the season.
"I think there is going to be highs and lows for every swimmer and every team, but it is important to continue working hard and to be doing as much as possible to do the best you can," Gritters said.
Making sure everyone "shows up for their events and understands the schedule" is something Schmit wants to enforce. The captains believe working with one another will come naturally since they have been swimming with each other for years. Over time they have formed a strong friendship and have similar values and ideas they want to carry out.
The captains have faith in each other and believe that they will be able to guide the Stillwater swim and dive team through the difficult parts of their season. The five hope to continue the teams past standings and advocate for every member helping them flourish.
Leave a Comment
About the Contributor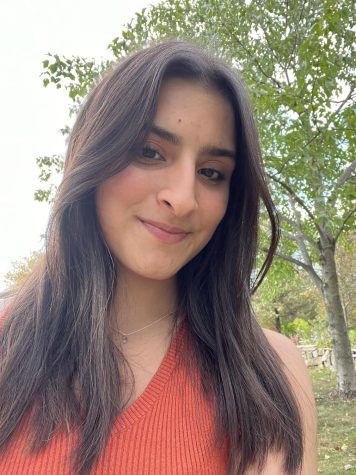 Milena Sandstrom, Podcast and Distribution Reporter
My name is Milena Sandstrom and I'm a junior. My job for the Pony Express is Podcast/Distribution Reporter. I like to listen to music and spend time with...