Girls swim and dive team jumps into '22 season with their eyes on the prize
In their 2021 season, the girls swim and dive team was undefeated, winning their conference meet, and placing third overall in state. This year they have started off strong once again under Brain Luke's coaching, entering his 47th season leading the team.
 When asking athletes about what the main contributing factors were to their consistent success, the response was their coach. Luke has been the fuel behind the team's success each season, pushing his athletes to the limit and getting them to compete at their full potential.
Junior Annie Gritters had no pause when answering that question, "Definitely just coach Luke. He is the best coach."
Even though Luke does contribute a high level of seriousness to his job to set up the girls for success, there is no lack of fun and camaraderie between him and the team. They have made True Team State one of the most successful events of their season, along with the most fun.
Senior Captain Sydney Dettmann explained the environment around the day, "True Team State is always a really fun meet because everyone gets to swim and everyone gets to contribute."
"
The energy on the team is so special and it's like we're all sisters, so it's amazing to be a part of that winning team."
— annie gritters
She added that the whole team overall is in a good mood, including coach Luke, and that it is a great day.  
It is obvious that the girls on the team have no lack of a strong emotional bond and are proud of what they have accomplished as well.
"The energy on the team is so special and it's like we're all sisters, so it's amazing to be a part of that winning team," Gritters explained.
Getting a team to that level takes leadership and drive on both the athletes and coaches side. The team has a strong group of captains ready to supply some extra team spirit and leadership for this year. This includes seniors Sophia Chau, Katelyn Stack, Lydia Beck, Sydney Dettman and Anika Wright.
Although swimming is a team sport, it is just as much of an individual sport. They are racing for themselves and to contribute to the team to prove that the hard work they put in outside of meet days has paid off. Winning has no dependence on judges or anything else.
Dettmann explained, "Since you are racing against the clock, what you do is only what you did." 
 The team has had great success at state almost every year, and that is not an easy thing to do without a surplus of dedication from the coach and the team.
"We practice six days a week for two and a half hours," Wright explained. And along with that, they get penalized at meets if they miss a practice. The expectations for the sport are high, and there are almost no words to describe the amount of commitment and dedication it takes to succeed in it. 
Going into their 2022 season, the team has the confidence from last season's wins in their back pocket and are striving to accomplish their hopes and dreams. The energy is high and the athletes are strong.
According to Wright, every meet day is another chance to keep the energy going, "your ears will be ringing for sure."
View Comments (2)
About the Contributor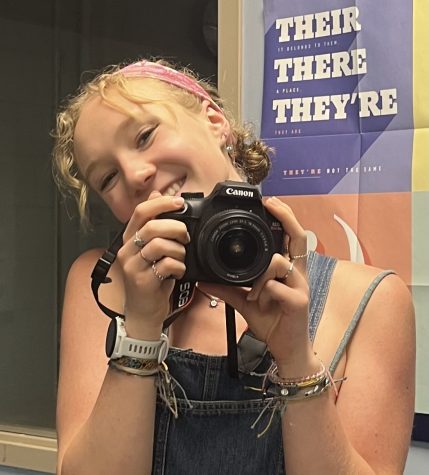 Bailey Holmes, Photography Editor-In-Chief
Senior Bailey Holmes is an outdoor lover, adventure seeker, and avid Nordic ski racer. She loves expressing her thoughts and opinions through words, which...