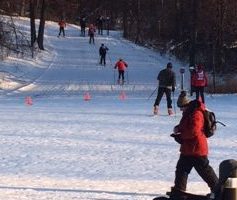 Thomas Johnson, SNO Sports Editor

January 12, 2017
The Nordic Skiing season is underway and due to their recent success in last year's season,  high expectations have already been set for the girls and boys teams. With top finishes in the state tournament last year, it will be interesting to see what their mindset is entering the new season. ...
Abby Kunze, Copy Editor

January 15, 2015
Sam Hanson is testing the course of leadership and responsibility as the only junior captain of the Nordic Ski team. "It's fun but also comes with a lot of responsibility. It's nice to have input on what we do for practice and gain experience," said Hanson. Hanson took Nordic up after watching...