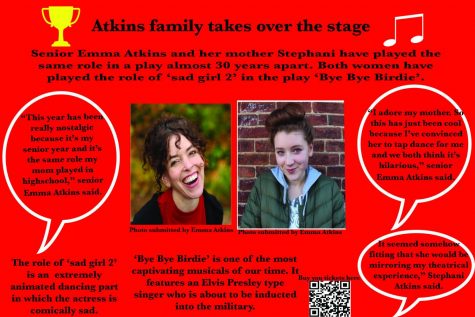 Lilly Sample, Online Editor

April 2, 2018
Senior Emma Atkins and her mother Stephani Atkins both played the role of "Sad Girl 2" in "Bye Bye Birdie" almost 30 years apart. The role of "Sad Girl 2" is full of extremely animated and comically sad dancing, as described by the actress. Emma Atkins and Stephani Atkins are very close, and find the ...
Alexandra Ewing, Video Field Reporter

October 31, 2017
https://www.facebook.com/120801061900816/videos/130314107616178/ Being part of a movie is something most people can only imagine. For seniors Flora-Sherr Nelson, Emma Atkins, Lee Menzel and Ivy Lariviere, it is a reality. These students got to help work on set of the film "They Got Us Agai...