High school tattoos become more widespread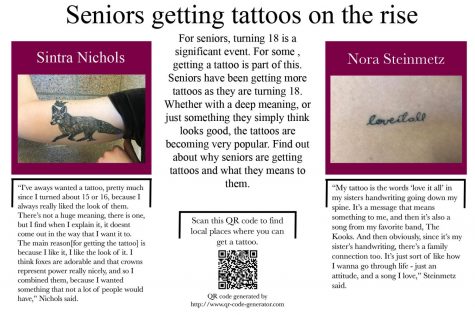 Tattoos have become a major trend in the Stillwater community, especially with the seniors turning 18. Tattoos and body art have always been a way for students, especially in high school, to express themselves. Recently, students have been posting on social media with their friends getting the new and trendy tattoos. Students think this trend is starting to appear again because of it being influential and wanted when people turn 18.
It is unclear how many American teenagers have tattoos and piercings. A report cited from the Pew Research Center study that said about 38 percent of young people ages 18 to 29 have at least one tattoo. In many places it is illegal to get a tattoo done professionally without a parent or guardian's written consent, but in the state of Minnesota it is legal at the age of 18. Twenty nine percent of people, with and without tattoos, believed there was a link between tattoos and "deviant behavior" in 2008. That percentage was 24 percent in 2012, the report said.
Rankin's family always travels to Hawaii every year for their vacation. The significance for her tattoo is her family all parting after her sister, senior Hailey Rankin, will depart for college. She thinks that the wave is an important part of Hawaii and really symbolizes where her family always goes.
"We didn't really have a meaning. The reason why we chose it because we were in Hawaii and we've been going to Hawaii as a family, so we're like, 'this is our last big family vacation' because next year Hailey will be in college and the year after that I'll be in college," junior Tanna Rankin said.
Rankin explained that she has a high pain tolerance, so she did not feel significant pain going into the process of getting it.  She explains how it feels like a bunch of bee stings and that she has gotten stung a lot by bees, so it did not really feel like anything. Tattoos tend to hurt some people a lot, but, Rankin had experienced no pain whatsoever.
"I was not scared at all. Everybody went before me except for my aunt and my stepmom, so I watched like my grandma and my sister and my other aunt get it. I don't get scared of needles so I just like sat down and watched him do it and it didn't hurt," Rankin said.
Rankin states that her decision with getting the tattoo was a good one and she does not regret it. Rankin, among a lot of other students think that the age to get a tattoo professionally done in Minnesota is simple minded. A lot of teens try to find their way around getting a professional tattoo, like getting stick and pokes, which they can easily do themselves or with friends.
"I do not regret it at all. I really like it. It makes me want to get a bunch of more tattoos, but it's not legal in Minnesota under 18 at all so I can't and that makes me mad," Rankin said.
Rankin plans on getting multiple tattoos in her future about things that resemble her life like her friends and family. She stated that she likes getting meaningful tattoos rather ones solely for design.

Loading ...
"I'm gonna get one that's like dance with [my friends] Riley and Kacey, we'll get matching ones and then a Canada maple leaf because I'm Canadian and I'm a citizen there," Rankin said.
Senior Gracie Thomas also gave her feedback on some of her own tattoos she got.
"I feel like a lot of people are doing it now because it's in, but I have always wanted a bunch of piercings and tattoos. That's just me," Thomas explained.
Tattoos have been a skin-deep language in various cultures for centuries. A lot of people get them for different reasons, or no reasons at all. Thomas originally wanted a large sunflower on her side, but instead got two mini tattoos of a sun and moon, one on each side of her ankle. Thomas stated that she wanted to know what she was going to expect for pain and that is why she chose to get smaller tattoos first.
"I have always wanted a bunch of tattoos for that like arty aspect of it. I don't really have any meaningful ones…I kinda got these like on a whim because it's not like I'm getting another tattoo right there and these are really cute so I decided these will be my tester tattoos," Thomas said.
About the Contributor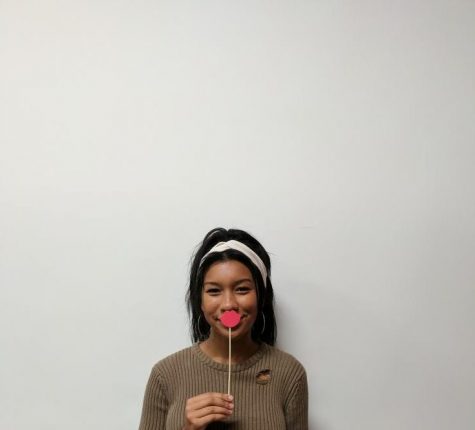 Fotini Kloos, Announcements Editor
Fotini is and Announcements Editor and her main department is Student Life. Fotini likes driving, listening to music, hanging out with friends, meeting...