Becky Mazzara takes over as NHS adviser
National Honor Society is one of the most prominent school clubs, as well as at thousands of other schools across the nation. NHS club adviser Chris Engler has stepped down as the teacher adviser and Becky Mazzara, a newly hired American Sign Language teacher, has begun to fulfill the role.
Mazzara has been around the school quite a while. As an alumni herself, she substitutes for multiple classes and has a son who attends the school. Because of this, she's gotten to know many students and teachers alike.
Engler, World History teacher and the previous NHS adviser of 12 years, decided to retire his role as adviser due to his schedule at the end of last year.
"I'm teaching a new class, and then my wife took a new job. Originally it was thought that she would be traveling, and I have a daughter that's a sophomore, so one of us would need to be home," Engler said.
With his resignation, Mazzara has volunteered her time and commitment to be the adviser for years to come.
"I was…homecoming adviser, and a couple of the homecoming students that I was working with…said 'You know what? We need a new NHS adviser. You should look into that.' So I did, I looked into it, and then here I am. And I went and talked to Chris Engler about 'Should I do this? Is this something I want to do?' So far it's been a really nice fit," Mazzara said.
Camryn Davis, senior and current NHS president, believes while Mazzara's induction has been slightly rocky, it will pick up as the year progresses.
"She definitely has [fulfilled the role], but we're still kind of in transition mode. I still have to go to Mr. Engler sometimes because he's kind of training her in right now, but the officers have met with her a couple times so far and she seems to know what's going on, so that's good," Davis said.
Engler has put in many hours to train Mazzara in, and for that she is thankful for the help that she has received.
"He's basically laid out the groundwork for me. He's made it a lot easier. He's given me a ton of information, and a ton of his time. And I know that he does it anyway with NHS, but…he clarified a lot of questions, and he has been very open about the things I'm going to have to learn, and the things that are going to be more difficult, and some of the challenges that he's had. He's just been very…kind and honest. And he's done it for a long time," Mazzara said.
Engler thinks Mazzara can use all the training she can get, since he had such in-depth training before he became NHS adviser.
"
Mr. Engler is much more composed, and a little more serious, but also that can be a good thing. I think Becky is a little more approachable, and she gets really passionate about certain things…"
— Camryn Davis
"When I took over, I'd [been] almost ten years into it, so I kind of knew what was going on. So for her, I need to do a good job of explaining things to her. Luckily we have just great officers, so they'll be extremely helpful to her," Engler said.
Davis is just as appreciative but is also excited and ready for the change.
"Mr. Engler is much more composed, and a little more serious, but also that can be a good thing. I think Becky is a little more approachable, and she gets really passionate about certain things. If she has an idea, she'll bring it up, and she'll definitely follow through, and I saw that with Student Council too, but Mr. Engler has been a really awesome adviser, and really reliable, and a great person," Davis said.
Although being NHS adviser is so time-consuming, Mazzara is looking forward to the responsibilities it will bring for both herself and the NHS students.
"I'm really excited for Coffeehouse. I can't wait to be a part of that. I know it's a lot of work, but I keep thinking that if I have to work too hard, then I'm not doing the advising job right, because the students should be the ones who are really involved. I should more be…backstage," Mazzara said.
Mazzara has been so impressed by the NHS students thus far that she's begun to form relationships with them.
"These NHS kids are amazing. I mean they're not only all super academically smart, but they've got such great common sense and they've got such good goals and morals. They're academically great, they're athletically involved, they're involved with their school community, they're involved in their home community. They just have so much to offer. They're just such great, great kids, and that's what I'm loving," Mazzara said.
Growing up in Stillwater and being an SAHS alumni, Mazzara is excited to begin teaching full time for ASL classes beginning in January, as well as taking on the complete role as NHS adviser.
"Just being part of the education community [is the best part], and…I've subbed in other districts and so far wherever else I've been this still feels like home," Mazzara said.
About the Writer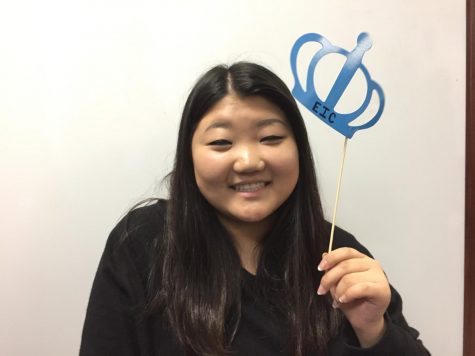 Mira LaNasa, Print Editor-In-Chief
Mira LaNasa is a senior and a Print Editor-in-Chief of the Pony Express who manages the photography department. She was born in South Korea and now lives...