New country, same sport: foreign exchange athletes adapt to American athletics
Hang on for a minute...we're trying to find some more stories you might like.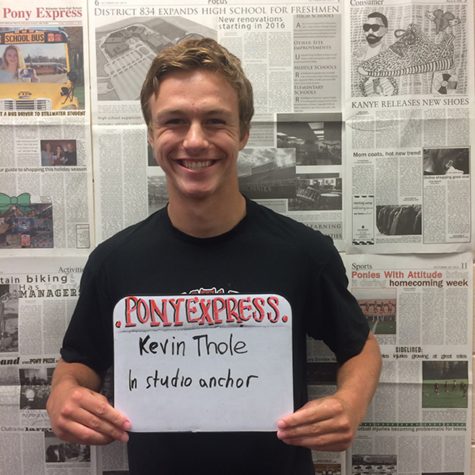 More stories from Kevin Thole
The ball soars past the goalie and into the net to conclude an overtime win against conference rival, East Ridge. With another win, the boys soccer team is off to a roaring start to the season. Contributing to the team's success are a host of familiar faces and some new ones, as foreign exchange students don the red and black.
Junior Miki Villen is a varsity forward from near Madrid, Spain. He has become an important offensive weapon for the team. He is one of two foreign exchange students playing soccer. The other player, Joey Reichardt from Berlin, Germany, plays JV soccer.
Adapting to a new country isn't easy. But, it's easier to have something familiar to connect to back home. For Villen, that something is soccer. With seven goals and six assists on the year, the Ponies lucked out when it comes to acquiring a new player. Athletics in Europe are different than in the United States in the fact that there are no high school sports. All European athletics are done through athletic clubs. In Spain, Villen played for Las Rosas, a very competitive soccer club from his hometown.
"It's a real big club. So we played against all the biggest clubs in Spain., such as: Real Madrid, Atletico Madrid, Getafe and all that," said Villen, commenting on the fact that his team played against the minor league teams of some of those famous clubs.
Playing for the Ponies is competitive as well. After beating number one ranked East Ridge, the Ponies have advanced to the number one rank in the conference. With ten wins and zero losses, the undefeated Ponies are a favorite to win state this year. A goal that every player on the team hopes to achieve.
"
My goal for this year is to win the state tournament, be the best team in the state, and score a lot of goals for my team."
— Miki Villen
"My goal for this year is to win the state tournament, be the best team in the state, and score a lot of goals for my team," explained Villen.
This goal is very plausible among such a tight-knit group of guys. The soccer team is welcoming and Villen quickly befriended his teammates. Stillwater soccer players are accustomed to having at least one foreign player on the team each year. Last year, Can  Sommermeyer, a foreign exchange student from Stuttgart, Germany, became a dynamic part of the Stillwater team. This year, Villen feels welcome and at home among his teammates.
"Miki's scored a lot of goals on the field, he's a good player all around and he's good with the ball", said soccer captain Mason Bartosh."We usually get one [exchange student] every year and they fit right in and help us during the year."
The American school system is also something that takes some getting used to. Transitioning from a school size of three-hundred students to one of over two-thousand would seem daunting to any of us. But Villen and Reichardt both say that they enjoy the transition.
"In America the teacher likes you and in Germany the teacher hates you" said Reichardt, who also commented on the differences in athletics, "In Germany I played for a club team which did not represent anything and here we get to represent the school which is awesome."
As the season rolls on, and the Ponies defeat opponent after opponent, Villen and Reichardt hope they can contribute to what looks like is going to be a successful and memorable season for the boys in red.