Julia Geigle helps students deal with substance issues
Thousands of high school students have mental health issues and/or problems with drug and alcohol abuse. The Wellness Center is a place where students can go to help deal with these problems. It provides a calming environment with counselors available at all times if kids need them. Julia Geigle is the Wellness Center counselor who specializes in working with kids who have substance abuse problems.
There have been countless studies proving that the abuse of drugs and alcohol is harmful to a person's physical and mental health, especially adolescents. When teenagers develop drug problems, it is harmful to more than just them; their family members and friends typically become concerned for their health.
Counselor Julia Geigle said, "Parents, school counselors, assistant principals, probation officers and treatment providers get in touch with me via phone and ask that I meet with different students. Additionally, friends who are concerned about a student may come to the Wellness Center and seek support for their friend. After I meet with a student, the student and I develop a plan together to determine when and how often we will meet."
The counseling process will always vary depending on the student. Since every person is at a different point in their life and experiences, the process to help them deal with their issues can be a wide range of things.
"
I work with students who are at many different places in their journey."
— Julia Geigle
"Some students I meet with are in the early stages of experimenting with a substance, others have begun to experience consequences because of their use, and others yet are struggling with addiction. The students I work with tend to gravitate more towards alcohol and/or drugs, and are on various places on the spectrum. I appreciate working with them to help them be honest with themselves, figure out where they are at on the spectrum, and what they want to do about it," said Geigle.
The Wellness Center strives to create somewhere students are able to find comfort, support and tranquility if needed. Many kids struggle with depression, anxiety, and other mental illnesses that can peak in certain school situations. The Wellness center is a hub of resources for students dealing with these issues.
Geigle explained, "The Wellness Center is a place at SAHS where students can receive support in addressing a variety of different issues such as stress, depression, anxiety, eating issues, drug and alcohol issues, family difficulties, relationship issues, legal concerns, sexual health issues such as pregnancy, and academic problems."
Those who go through Julia's counseling have found it very helpful to their healing process. One of the strongest methods she uses is to help kids find healthy alternatives to their drug usage. Some examples of this are exercising and spending more time in nature. Some turn to music and other forms of art as a healthy alternative output.
About the Writer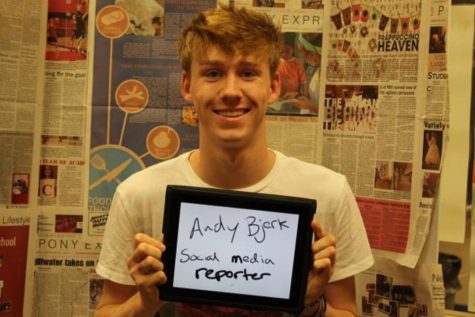 Andy Bjerk, Social Media Reporter
Andy Bjerk is a junior at Stillwater Area High School, and is involved in Student Council this year. He likes dogs, fruit snacks, and trees. When he has...