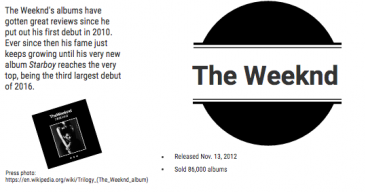 Kaitlyn Launderville, Social Media Reporter

January 10, 2017
Canadian R&B singer ,The Weeknd, blows up the charts on the Billboard 200 with his new album Starboy landing himself at No. 1 within a week. Starboy is the third largest debut of 2016 behind Drake's Views and Beyonce's Lemonade.  The Weeknd was born Toronto, Canada and raised in Scarborough. The Weekn...
Joe Rice, Team Lead Editor

December 10, 2014
In recent years, more and more nudity, vulgarity and utter lack of refinement has surfaced in the public eye. With each passing day, another tasteless photo is posted online, a new swear word is allowed on television and the fashion industry grows richer and more powerful, though it would appear they...