Sara Swartz, small town theater star making it big
Senior Sara Swartz was selected as one of the top 100 applicants to attend Carnegie Mellon University over the summer for a 6 week musical conservatory program.
She never imagined the intensity of what would happen when she arrived. She had auditioning class, ballet class, acting class, singing class, jazz class, drama literature class and directing class from 9 a.m. to 6 p.m. every single day for six weeks straight. She lived in the dorms on the campus in Pittsburgh, Pennsylvania.
Swartz said, "Carnegie Mellon is the top musical theater school in the world so it was amazing to be able to go there."
Most of the other young actors that attended the summer program go to private performing arts schools, where they have drama class, dance class, and vocal training every day.
Sara's step mother Angela Gyurko Swartz said, "It was an incredible experience, and she [Sara] received very positive feedback from all of the professors."
Although it was a lot of work, Sara said, "It was honestly an amazing experience. I met so many people that I still keep in touch with often."
Junior Mary Burchill is also in drama club and has learned a bit from Sara about her trip to Carnegie Mellon University.
Burchill added, "I know it [Carnegie Mellon University's musical conservatory program] was a lot of work and classes and intensive training which is impressive and shows how real her drive is."
Like many others, Burchill thinks extremely highly of Swartz.
"
I can't wait to say 'I know THE Sara Swartz', because one day that will mean something."
— Mary Burchill
Burchill said, "As an actress, Sara is extremely inspiring and uplifting. She has qualities that most people would just die to have and need to work their whole career for. She is versatile with her acting and voice which is a technique high schoolers do not normally have either. She is a leader in drama club, she is an event coordinator. She is spectacular, so it is not hard to brag about how incredible she is."
The new theater coordinator Grif Sadow has only known and worked with Sara for a few months now, but he is already extremely impressed by her abilities.
Sadow said, "She is dedicated, hard working, takes direction well, and is a pleasure to work with. She does hold a leadership position in drama club and is an active member of the International Thespian Society."
Sara is looking to continue on with theater for the rest of her life and plans to make a career out of it. She is applying to 12 musical theater colleges on the east coast.
Once Sara's current show ends, she must prepare for her upcoming college auditions. All of the schools she is applying for require an audition.
According to Angela, "Most of the top schools accept only 30-50 Musical Theater majors. Carnegie Mellon, the top theater school in the country, accepts only 12 Musical Theater majors each year. Her first audition is in November. Her dad, mom, grandparents, and I are very proud of how hard she is working for this."
Burchill said, "Sara definitely will have a career in theater, there is no doubt in my mind that she will make it far. She has that 'it factor' to get her as far as she dreams. With her abilities and talents, plus her kind heart and work ethic, she is guaranteed to make it."
Sadow strongly believes that all of his students have the ability to possess a bright future in drama if they try hard enough.
Sadow said, "I believe ALL my students have a future in drama if they want it bad enough, are willing to work hard, are tenacious, and all the stars will align for them! I am confident that if Sara chooses a future in theatre, that it will be a bright one."
There is no doubt in anyone's mind that Sara Swartz has a promising future. She is going to be a small town theater star who makes it big.
Burchill said, "I can't wait to say 'I know THE Sara Swartz', because one day that will mean something."
About the Writer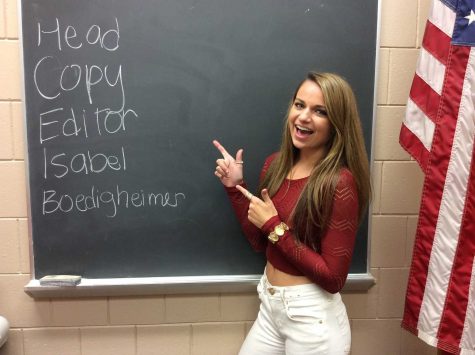 Isabel Boedigheimer, Head Copy Editor
Isabel Boedigheimer is a junior at SAHS and is the Head Copy Editor for the Pony Express Newspaper. She enjoys playing piano, soccer, and spending time...