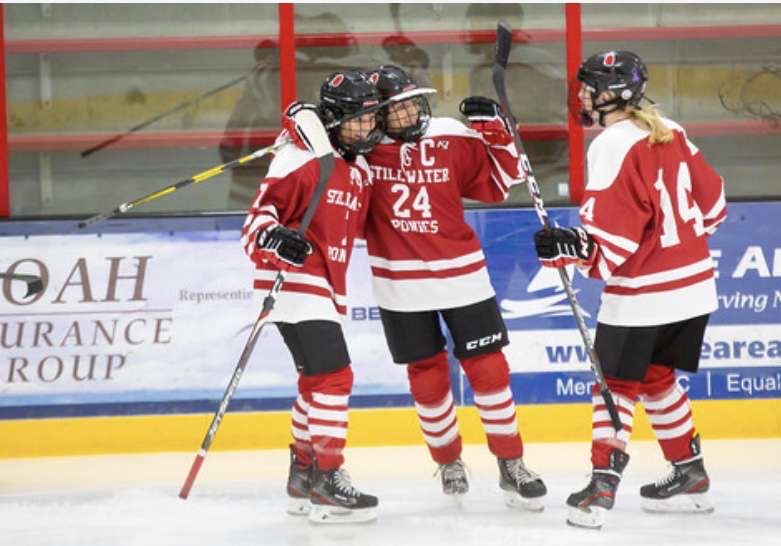 Photo submitted by Haley Eder-Zdechlik
Girls hockey team hits ice hoping to improve their game
The girls hockey team named a new head coach Mira Jalosuo and are expecting growth as a team and individually.
The team sets goals and trains to accomplish them. This season, the team is thrilled to work to becoming a tight unit. Last season, the team ranked fourth in the Suburban East Conference and hope to improve the rank this season.
Junior Morgan Wohlers explained focusing on the team and making people around her better rather than herself will contribute to improve the team.
"
"The biggest change I've seen so far this season is probably just the way we play. We have a lot more structure and a lot better knowledge of the game."
— Haley Eder-Zdechlik
It is meaningful for teams to work towards goals; setting goals boosts engagement and hard work because everyone knows they have a role in reaching it. Goals make sure the team is aligned and working towards the same goal. The girls team works hard to accomplish the goals they set. They are working towards the big leagues and are hoping for improvement to reach it.
"Our team's goals this year is to make it to the state tournament, and hopefully do big things there with bringing home a State title," Eder-Zdechlik added. 
Coaches are a key contributor to make a team function successfully. The training they provide to the team effects how the turn out will be at games. This season, the new coach wants to improve their game. Prior to coaching, Jalosuo won a bronze medal at the 2018 Winter Olympic Games and bronze medals at the IIHF World Women's Championships. However, an important aspect of coaching is modeling human behavior. Research has shown teenagers who have made strong connections with adults will have more engagement in the community. Coaches are models to their players and can be that adult to them. With having a new coach, the team has to connect with Jalosuo and get used to the professional way of coaching.
"I try to do my best to connect with the players in daily bases and know how they are doing so my players know that their coach cares about them," Jalosuo explained. 
Jalosuo has been trying to improve how this team plays. She is starting fresh and wants to bring new aspects to the team. This is the first year the girls will have a woman as their head coach.
"The team has already improved because even in the offseason coach has worked us much harder compared to previous years," Wohlers added. 
Along with having a new coach, this team also has new captains. Becoming a captain means obtaining more responsibility for the team. Captains' actions rub off on a team, so it is important to leave strong impressions. Captains bring the aspect of leadership and can hold the team together through the wins and losses.
Eder-Zdechlik is, "always being positive helping the underclassmen with what to do and when to do it," as a captain this season. 
Having a close knit team is essential in playing like a family. Connections grow how a team plays. The team has practiced this through off ice activities like going sledding and they made blankets together for Gillette Children's Hospital. During these activities, they tightened connections with each other.
"On the ice, I see them protecting each other like they would protect their family members," Jalosuo explained. 
Jalosuo said she has seen huge improvements daily and the team is an easy group to coach because everyone wants to learn.