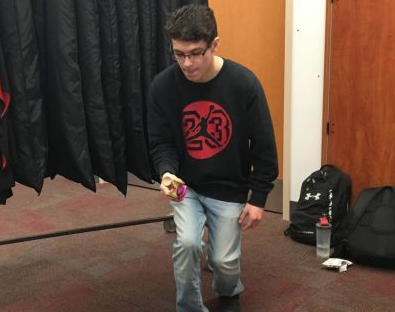 Photo by Jameson Stahl
Kendama trend returns after six years hiatus
April 4, 2019
After disappearing from student's hands for six years, kendamas, one of the hottest trends from elementary school, is back. The viral game first came onto the scene back in 2012 and 2013. Kendamas were the playground favorite, and groups of kids would gather together to show off their best tricks.
Within the past few months, there has been a resurgence of the toy. It started out with a few students, like senior Will Gleason, who brought their kendama to school. Then more and more students starting bringing theirs after being intrigued by people like Gleason, landing trick after trick. Even a new club has been formed.
According to kendamausa.com, "Kendama is an extremely addictive wooden skill toy that comes from Japan. It strengthens hand-eye coordination, balance, and reflex. It can be played by young and old alike. There are endless trick possibilities for both the beginner and the seasoned master. The Kendama is made up of the 'Ken' (handle) and the 'Tama' (ball), which is connected by a string. The Kendama tricks are done by variations of juggling the ball in the 3 cups, spiking the ball with the Ken spike, and balancing both in new creative ways. Mastering the Kendama takes practice, focus, patience and creativity."
Will Gleason, a long time kendama fan, appreciates the "endless challenge" and that, "There's always something harder to do. There's always something more you can do. You're never going to master it. There's always something bigger and better."
"
I advise whoever's reading this to go get one yourself. "
— Will Gleason
Also, kendamas are so popular because they give students a way to express their personalities through differently designed tamas and creative tricks. This was especially useful in their rise to popularity back in 2012.
Gleason explained, "Back then, we were at an age where we didn't care what people thought, so we played with a wooden ball and a wooden stick. And then we got to middle school and high school like, 'Oh, I care what people think of me' and now we're seniors, so who cares about what people think and now we can play with them again."
There is one burning question that can turn into a hot debate for some students. Who sparked the comeback? The answer varies from person to person, but the main suspects are seniors Will Harter and Matt Thompson or senior Josie Jelinek.
Senior Mya Lysne recalled, "Josie Jelinek brought kendamas back. One day way way at the beginning of the year, we were at the beginning of the year she brought a kendama, with a whole bunch of other random junk, for an econ assignment, and left it in the choir room. Therefore, people came by and saw it and were like, 'oh I haven't seen one of these in years' and started playing with the kendamas."
On the other hand, junior Ben Snyder disagrees with Lysne's recollection. He swears that it was Harter and Thompson who started it all.
"Will Harter brought the kendama back and he showed everyone his skill and inspired us to get better," Snyder said.
"I advise whoever's reading this to go get one yourself," Gleason said.