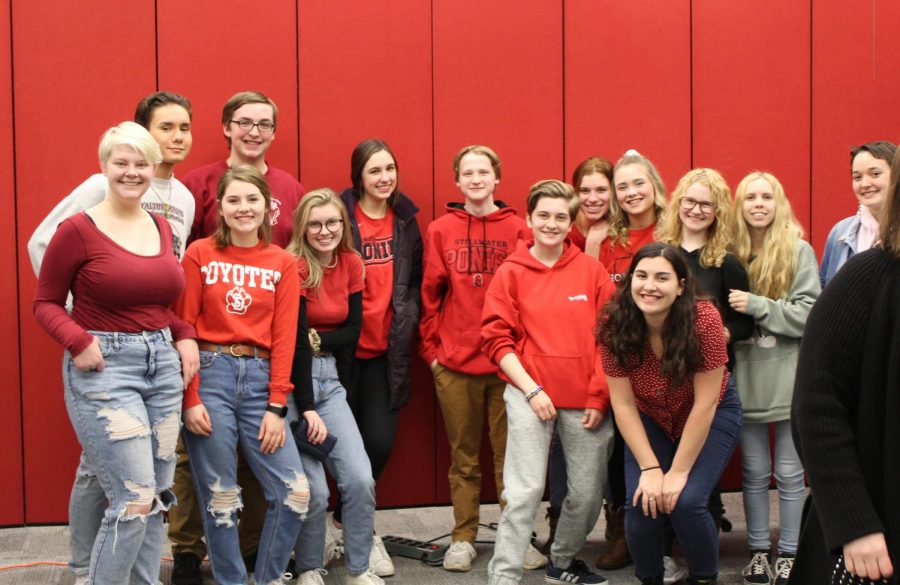 Board meeting red-out: students stand in support of Student Council President representation
Board meeting red-out: students stand in support of Student Council President representation
Inspired by senior Isabella Portelli, Student Council Senior Officer, many students showed up in red to the Stillwater School Board meeting Feb. 21 to support student leader representation at board meetings. A brainstorming suggestion to rotate the Student Council Presidents from their current seats on the school board inspired Portelli to take action.
During a Feb. 11 Board retreat brainstorming session to create a "wish list" for the district, board member Liz Weisberg suggested an idea to "rotate student/staff representatives from different schools at board meetings."
Student Council Presidents have sat on the School Board since 1994, when then-advisor social studies teacher Mike Kaul earned them a place. Students reacted quickly and angrily to the suggestion. Portelli visited AP Government and Politics classes and many of the school's music electives to spread the word.
"If something that was just mentioned in a retreat, just like as a brainstorming activity causes this much of a friction amongst the students, then that just shows that that shouldn't be even on the table," Student Council President senior Abdulaziz Mohamed said.
As the representatives who sit on the board, Mohamed and fellow Student Council President senior Nikhil Kumaran were not involved in organizing students to attend the board meeting. Instead, the organization of the student body was left to Portelli.
Organizing Student Support
In a discussion with third hour AP Government and Politics, Portelli started, "I'm leading the…"
"-the revolution," Mohamed finished for her.
Portelli's actions stem from a belief in the importance of student activism on the board. This year, she feels, the student representatives have been more active than before in board discussions.
"Student council's turning into what I've always seen it as, a student government, not just a group that plans dances," Portelli explained. "The fact that this is now their [school board members] reaction, that they're trying to take it away, really, really angers me."
Role of Student Council Presidents
Mohamed and Kumaran both act as liaisons between the students and the Board. Kumaran cites an instance of him using student report time to bring to light issues such as the under-recognized mountain biking team, while Mohamed has strong beliefs regarding the Brookview Elementary expansion proposal.
Kumaran and Mohamed both have their "ears to the ground," according to Portelli, best representing a larger cross section of the student body that she feels may not get vocalized when constantly changing the person giving the student report. In her opinion, by keeping some level of consistency, what the representatives have to say is much more powerful.
"
"No representatives could do a better job than our two student council co-presidents."
— Isabella Portelli
"No representatives could do a better job than our two student council co-presidents," Portelli said at the Feb. 21 school board open forum. "They have been elected by the entire student body to listen and speak for students present at this meeting, but also for the entire student population."
Both Kumaran and Mohamed feel they have actively used their voices on the board as well as they could. School board member Jennifer Pelletier cited the usefulness of the student representatives as a way for the school board to understand what happens within the school buildings.
"They're very professional; they're prepared every night; they pay attention," Pelletier said. "They're respectful. They asked good questions when they are given the opportunity to and I really see them as trailblazers. They've done a remarkable job."
A sticking point for the student council members, as well as other students, is the fact that student council representatives are elected by the student body. They view their job as amplifying the perspectives of their constituency, something they feel a rotating student representative would not consistently do.
"Nikhil and I have been elected by the student body at Stillwater through votes," Mohamed said. "So that shows that the student body wants us at the table, and that they really hold what we say to value. And it also shows that they trust in our judgment on issues."
"The challenge that I see with this approach is that it failed to incorporate the perspectives of Abdulaziz and Nikhil, the current Board of Education Student Representatives," Eric Anderson, Coordinator at the district Office of Equity and Integration, said. "These two strong young black leaders have 'insider's eyes' into what it means to represent the voice of the student body, and having their perspective is absolutely necessary before moving forward with any such decision."
Board Members Respond
In the days leading up to Thursday's board meeting, board member Sarah Stivland reached out to both Kumaran and Mohamed by email. "I am deeply sorry for any stress or trouble that these comments have caused," Stivland said.
Further, Stivland explained the rationale for the suggestion made at the board retreat and offered to work in partnership with the Student Council Presidents, "With your help, perhaps the role needs to be clarified. It would be great to refresh and perhaps redefine the goals and expectations for the position of student representative. You both have done a fantastic job so far and I really believe you can help make this an even better experience for the students who follow in your footsteps."
During the board meeting, Kumaran and Mohamed used most of their Student Council report time to seek clarification on the intent of the statement made at the board retreat.
Weisberg said it was her suggestion. "I feel like it's important to hear from all of our schools," she explained at the board meeting.
Weisberg explained board liaisons for each school are no longer in place.  "I would also like to have someone who can sit at the table and represent all of the schools," she said. "I would like it to rotate."
She clarified that it "was just an idea and not anything that is on an agenda anytime soon."
In response to Kumaran's question about whether there was a possibility to include both Student Council representatives as well as members from across the district, Weisberg added, "Absolutely…it was just a suggestion. That would absolutely be a possibility."
Board member Shelley Pearson said, "What I took was the spirit of wanting to hear more voice, so it wasn't about taking away your voice or other students' voices." She added, "We certainly value our student representatives and we just want to be able to  hear additional voices in that."
Board member Jennifer Pelletier ended with an apology to all students impacted by the suggestion.
"Thank you for the reminder of what we are here for and thanks to you both for being such trailblazers," Pelletier said. "Trust me on this, you two just set a new course for the student leaders in this room and for young leaders as they look up to the standard you have set. Don't ever forget what you have done positively for this district."
Weisberg said no decisions will be made about the role of student council presidents serving at board meetings during this school year.