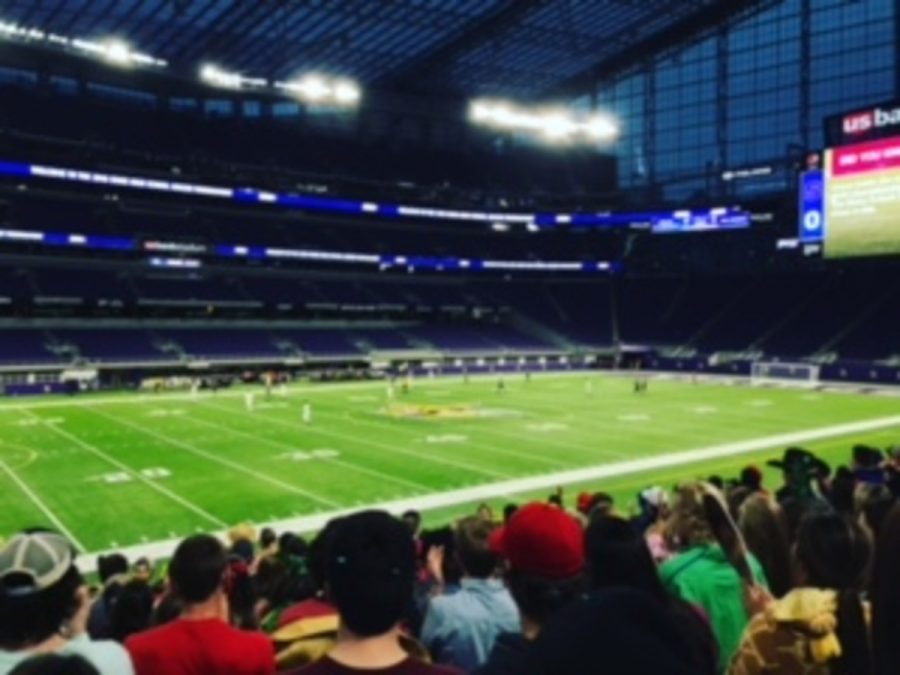 Boys soccer hopes for return to state championship
The Stillwater boys varsity soccer team has become a powerhouse in Minnesota and national soccer communities in the past couple seasons. Coming off the excitement of a state title last season, the players are working hard to return to the state championships once again. The team has been successful thus far in the season and are ranked very high within the conference, state and nation.
The team has been successful under the coaching of Jake Smothers. Facing only one loss and one tie in regular season play the boys are hoping to return to U.S. Bank Stadium and claim back to back state titles.
The team has faced internal and external pressures throughout conference play this season due to the overwhelming success of last season.
"Coming off of last year it has been rather difficult with the high pressures that we have inquired after an undefeated season," senior captain Weston McGinley said.
After the success of last season fans, coaches, players and members of the soccer community have unintentionally added great amounts of pressure in hopes of claiming yet another state title.
When asked about key aspects to the team's success, Scott, McGinley and Smetana had similar answers: coaching, intense practices and team bonding. The boys identified these as the three most important factors of the current and future success of the team.
"Our coach [Jake Smothers] is really talented. He definitely understands the game at a really high level," Scott said. Coach Smothers has created a fun, competitive and engaging environment for all boys in the program.
The boys have remained highly motivated and competitive during practice which has led to success during games.
"Playing is a lot of fun and practice is always competitive. It's pretty high intensity and never super laid back," junior Spencer Scott said.
According to Psychology Today, practice and focused repetition is proven to benefit performance under high pressured situations. When the body practices small mechanics repetitively the motion is saved in the brain and becomes second nature when it may be needed during an important game.
"
The key to our success is we've been growing together as a team, we've been bonding and we've been having a lot of good experiences together that's really connecting us and building the chemistry."
— Nick Smetana
"The key to our success is we've been growing together as a team, we've been bonding and we've been having a lot of good experiences together that's really connecting us and building the chemistry," senior captain Nick Smetana said.
The success of most organizations is the ability of all individuals to create an effective team with all members being involved and included. Team effectiveness grows through improved communication, chemistry and trust of other players. Team bonding off of the field is proven to eliminate external barriers and increase success of the team as a whole.
This season and team differ greatly from that of last year; the team lost many talented seniors and foreign exchange students. However, they have adapted to the losses of essential players and have remained a strong team this season.
"The team dynamics have changed rather significantly, especially in the mid-field. We had no returning, starting midfielders. We had to fill in with players from defense and younger players who were not on varsity last year. It's quite a bit different but so far has been a good change," McGinley said.
Returning to the state championship at U.S. Bank Stadium is no easy task. The team has been preparing and training since the end of last season for this opportunity to return once again.
"We need to keep doing what we've been doing; we've had a really good season so far. It's been proven to us that we're a championship caliber team," Scott said.
The state championship is starting to come within reach and the team is hopeful but remains humbled at the possibility of returning to victory.