Jazz Band takes on Lawrence
December 5, 2015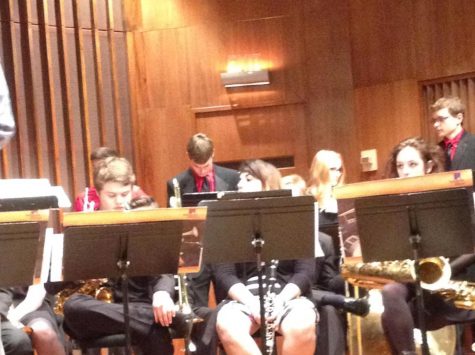 Every year, the Stillwater Jazz Bands take part in the jazz festival in Lawrence, WI. This year, The Lawrence Jazz weekend happened Nov. 6-8 and has been going on since 1981. The jazz bands have been to this festival 11 times in the past 15 years.
For senior guitar and bass player Bryce Bjorkman, this is his third time going on the jazz trip to Lawrence. The trip has always been an eagerly anticipated event for the jazz bands.
"I was pretty excited, I've been there two other times, and I liked it a lot," Bjorkman explained. Every year, he looks forward to this jazz trip, it is one of his highlights to the school year. The trip never fails to give him an amazing experience.
While the jazz bands were on their trip, they went to several performances from the Lawrence Jazz band as well as a Rufus Reid concert. Junior and trumpet player Beatrice Lawrence enjoyed watching these performances.
"The concerts every night are pretty fun. They were all jazz concerts, one of them was the jazz bands from the University of Lawrence. And then there was a french vocal jazz singer, Cyrille Aimee, and there was famous bassist there as well," Lawrence said.
As well as listening to performances, they also had a few performances themselves. They performed several pieces that they had rehearsed for a clinician who then critiqued the piece and showed them several new helpful tips that would improve their playing.
Although for Bjorkman, he said, "I like getting critiqued, but when I'm playing guitar, I'm not always the biggest fan of the clinics because generally the clinicians who have any experience with rhythm section, have experience with percussion, piano or bass, not really guitar."
It is a great experience for the jazz bands because they get to work with other high school jazz bands from around the country. They also get to work work with famous musicians such as bassist Rufus Reid and French vocalist Cyrille Aimee.
"There have been so many big names in jazz there, and it means a lot that we're a part of it," junior saxophone player Maia Carter said.
Another highlight from the trip was the amount of bonding that went on with the members of the band. Every year the group spends a total of 10 hours on the bus to and from Lawrence, preventing them from staying strangers.
"The bus ride there and back is always really fun and we get to spend a lot of time together," Lawrence said. "We get to hang out with each other for five hours, and it's a great bonding experience."
They also bond over meals and spending time in the hotel. Every member gets to choose three other members of the bands to room with. At the hotel, even though they have their specific roommates, they still spent a lot of time as a group in each others rooms.
"It was really fun in one hotel room with all of my close friends playing video games and laughing with each other," Carter said. "I'm so glad that we were able to hang out in each others room, because it was a good time for us to get to know each other on a deeper level."
Overall, the jazz bands had a great experience and are very excited for next year. "It's always really fun, and I learn a ton, so it's really inspiring. When you get back from the trip, you feel really inspired to play more music, and get better at what you do," Lawrence said.