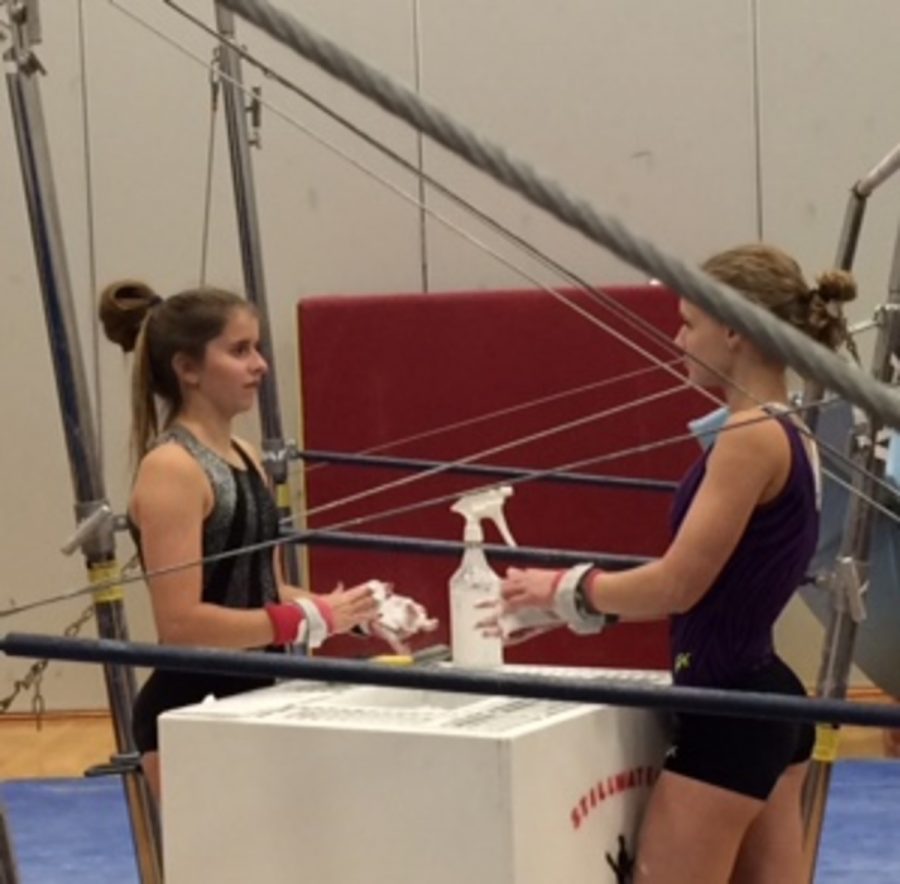 Photo by Madison Crain
Gymnastics prepares for upcoming season
This season the gymnastics team will have three captains and five coaches all working together so that the team can make it to state. The coaches are Traci Swenson, Caroline Urgo, Dusty Dennis and Joan Lesson and Kristina Krenz.
The gymnastics team started started Nov. 9. They will practice six days a week, 3-6 p.m. Monday through Friday and 9 a.m.-12 p.m. on Saturdays. Their first meet is on Dec. 3. It is a home meet against Cretin-Derham Hall at 6:30pm. Their season goes until the last week in February and state is Feb. 18 and 19.
"Our condition is really going to be key. You have to be strong for gymnastics otherwise injuries happen and then it is not as easy to make it to state," coach Urgo said.
When performing in any sport it is nice to get different people's perspectives in order to grow and perform better. Each of the five coaches bring different techniques and different ways of teaching or explaining an event to the team. Each coach has had different specialty and will be working with the gymnast in one of the events; floor, uneven bars, vault or the balance beam. Krenz and Urgo will both be working with the gymnast in the uneven bars. A big part of gymnastics is staying in shape, an unique thing that both Krenz and Urgo do is that they condition with the gymnast.  As a whole the coaches will be working together to make this season legendary.
"
We always hope for the girls to improve and grow in their skill development and in their scores."
— Traci Swenson
Sophomore Danielle Keran explained what she wants to learn from Krenz, "Gain confidence and get higher scores."
Captains are a huge part of a team, they are like mini coaches. The captains of this upcoming season are senior Alex Holmberg, junior Annie Seiler and junior Haley Tholen. The captains are in charge of making sure everyone is on task. They also need to make the new girls welcomed on the team. One way they do that is a team sleepover together. They also go paint balling. Another job that the captains have are what should be in their team spirit wear. In addition to their team spirit wear that the gymnastics team will be getting, they will also be getting a pom pom hat. The hat will be their optional piece of clothing.
"We chose a hat so that we could all be united," Holmberg said.
It is an advantage to have multiple coaches that hold records. Krenz holds the record for the balance beam with a score of 37.8 and the balance beam with a score of 9.725. A perfect score on the balance beam is a ten. Carolin Urgo also holds a record in the floor event and in 2006 she got the all-around record. The all around record is all of the events vault, floor, balance beam and uneven bars scores added up together. All the events in gymnastics are judged on execution, complexity and consistency.
"At the competitions the person that wins the all-around is the best gymnast there that day. The biggest award, all around," Urgo said.
On Nov. 8 the gymnastics team got ready for the season to start, on Nov. 9. On Sunday the team had to set up all of their equipment in the gymnastics gym. This year was their first time working with Key Club and National Honors Society to get volunteers to help them set up the gym. The volunteers that are a part of either Key Club or National Honors Society got volunteer hours. The team broke their record of setting up the fastest. The team's previous record to get all the equipment up was an hour and 22 minutes. On Nov. 8 the team and all their volunteers were able to set up in the gym up in an hour and 20 minutes.
Head coach Swenson explained why it is so important to have many volunteers, "The more people we have the faster we get it done."
"We always hope for the girls to improve and grow in their skill development and in their scores," Swenson said.