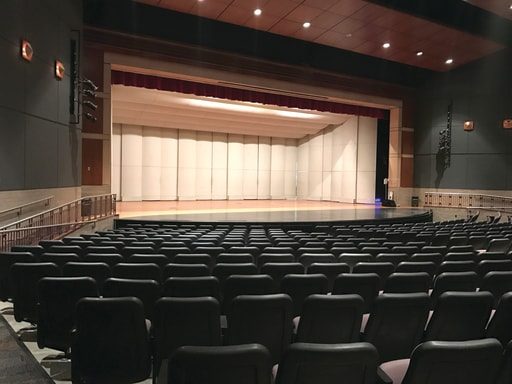 The One Act Play is a Minnesota State High School League activity that occurs annually. High schools around the state have to prepare a production that meets the requirements set by MSHSL. The play must be shorter than 35 minutes, and have a cast and crew of no more than 20 students. The One Act is extremely competitive and many schools participate every year. The schools who take part yearly make the competition an integral part of their school year.
The One Act is more difficult than a regular play, this is because shows are evaluated. Judges grade each show based on a rubric, but it is difficult because of how many different genres of plays are performed. One judge may love a show, but a different judge could have the exact opposite opinion. No matter how phenomenal a play can be, art is still very subjective.
"It's very subjective when you evaluate art, it's a little frustrating that we're competing against so many different types of work," theatre director Grif Sadow explained.
The limit on team members and the time limit are not the only restrictions. Each school is given 10 minutes to set up their set, and 10 minutes to tear it down after their performance. The entire set must fit in a 10 by 10 foot square. This also includes props and costume pieces.
Sadow said that the Minnesota State High School League "comes up with the rules that we have to follow. We have to think about what makes it competitive."
Due to the small size of the team, many friendships are formed within the One Act group. They put on a show for a competition and travel together, becoming close in the process.
"Performing with people can make you closer to them," senior Danny Valerius said. "You're telling a story together and you bond over that."
Many that participate in the One Act love the aspect of traveling and showcasing their work to different areas. Others love the pressure and tight ruleset of the competition. Even through the extra pressure of competing, there is something for every student that chooses to participate.
Valerius says he loves the small scale aspect, even if the competition is in a very wide setting. The school is timed on everything, down to the build and takedown of the set.
"
We work so closely together, we get to know each other really well and become like a family."
— Cecilia deLeon
"We work so closely together, we get to know each other really well and become like a family," senior Cecilia deLeon explained. "We all support each other in everything we do."
Most of all, actors are excited to be back on stage after COVID-19 paused live theatre for a period of time. The One Act has not been performed live in two years.
"I am most excited for it to be back to live theatre with other extremely talented schools," deLeon said.
"It's starting to feel like normal again," Sadow said. "It really emphasized the importance of a live audience, and that layer that provides to the overall process of theatre."
Sections are not yet decided for the high school, but all subsections and semifinals are open to the public. Some host schools are also currently undecided, and more information about the competition will be released in the new calendar year. State will be held on Feb. 10-11 2022, in the O'Shaughnessy Auditorium at St. Catherine University.