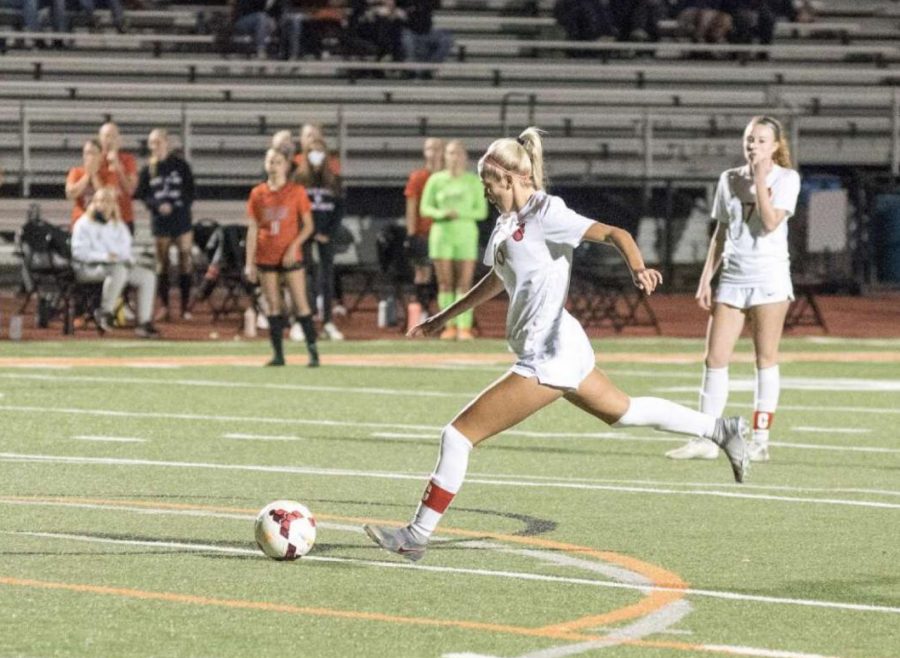 Lexi Huber: continues family soccer legacy
With hundreds of students sitting in the stands in the U.S. Bank Stadium, senior Lexi Huber could feel the pressure as the clock ticked down in the final seconds of the 2018 MSHSL State championship for girls soccer. The buzzer dinged and the scoreboard flashed "Stillwater 2- East Ridge 1."
In her sophomore year, Lexi had helped lead her team to victory with her dad as her head coach and neither of them could be happier.
"I did it dad!" Lexi said to her dad and head coach Mike Huber. 
He watched her smile and her teammates gather around her, feeling insanely proud of his daughter and the rest of the team.
 "I think it is something she will remember for a while and I remember seeing the looks on her face and the rest of her teammates have smiles on their faces, what a cool experience," Mike said.
Younger years
Coming from a family of soccer players where her mom, dad and brother have all played soccer in college, it was inevitable that Lexi would end up playing the game, but little did she know how much she would love it. Once she started, she never stopped, playing year round with little to no breaks.
"By default, she is around soccer a lot and I think it has been kind of ingrained in her system just to always succeed and push yourself higher to the next level," Mike explained.
From day one, she has been playing above her age level, with support and encouragement from her dad. When she was twelve, she would be playing with thirteen and fourteen year olds.
"
I have always wanted to play soccer and Division 1 since I was a little girl so I just chased after that goal."
— Lexi Huber
"He has always coached me, and he has pushed me to do my best. And it is not always easy having your dad as a coach but he made it fun," Lexi added with a smile.
Choosing St. Thomas
Huber had been looking to play after high school and join the family club of college soccer players, and she was hoping to go Division I. When St.Thomas changed this past year from a Division III to Division I athletics school, it was the perfect opportunity for her. Being able to stay closer to home as well as get a great education and play the sport she loves was a dream come true.
Lexi said she chose, "St Thomas because when I heard that they went from Division III to Division I, I knew I really wanted to go there because it is close to home. I heard that it has been a really good school and has a good education so that is why I chose to go there."
Going to St. Thomas helps her family as well because they will be able to see games and visit. Her older brother plays Division I soccer in Nebraska, and the family is unable to see many games due to the distance. Her parents and herself wish they could see him more often, so when Lexi thought about it, she realized, "At St. Thomas, I can see my family more than once every few months," and that sounded great.
In this case, when she is playing at home, they will be able to swing by and work around his schedule as a coach to go see her play without having to worry about the distance.
The last hurrah
Huber finished off her senior soccer year with a bang, becoming the stop scorer on the high school team as well as being nominated for Ms. Soccer in Minnesota. Her father and head coach was very proud of her and excited to see where her soccer career takes her.
"It was cool that she said she has met a lot of goals and again just watching her step up and be a leader on the team was so great," Mike said.
She hopes to gain a lot of playing time in the fall so she is planning on training the rest of the year until then, continuing through the summer as well. Another main goal is to be an influential player, helping lead the team at St. Thomas.
She is going to train over the summer and is hoping to get some playing time when she gets to St. Thomas. Her goals are to progress so she can get to that level and be an impact player at St Thomas.
"I have always wanted to play soccer and Division 1 since I was a little girl so I just chased after that goal," Lexi explained. Through her dad's influence and her own drive, she has pushed herself to be the best player she can be, and will be gunning for playing time next fall at St. Thomas, leaving a legacy behind for years to come at Stillwater.
https://www.mnsoccerhub.com/bracket/show/4299347?subseason=555742
https://www.tommiesports.com/sports/wsoc?path=wsoc
Senior Lexi Huber: "I have always wanted to play soccer and Division 1 since I was a little girl so I just chased after that goal"
Lexi Huber: continues family soccer legacy