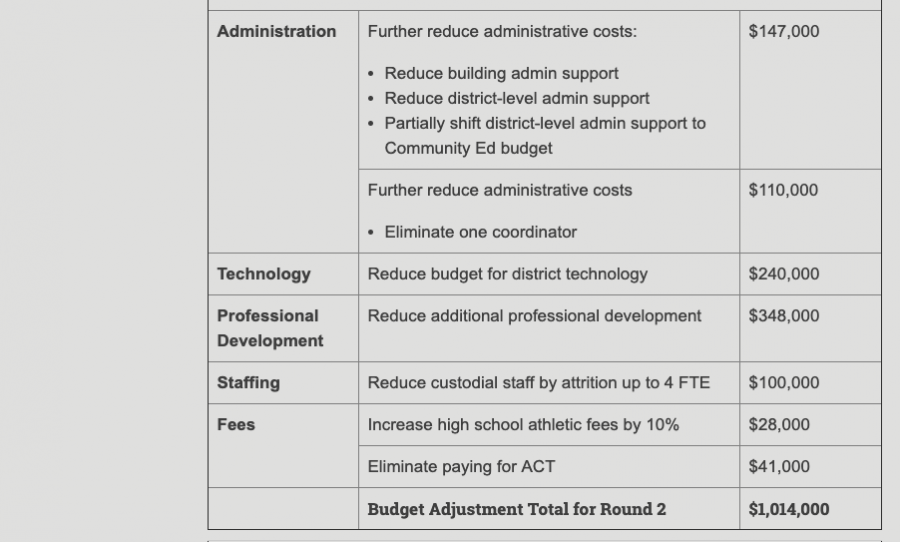 Photo courtesy of Stillwater Area School District
School board further reduces 2019-2020 budget to fill deficit, still does not comply with policy R 5.4
During the 2017-2018 school year, the board fell into a $2.4 million deficit pit. Meetings to address the deficit began in early October, and are still continuing into late February.
Being $2.4 million in the hole, the board needs to make cuts for operations to return to normal for the 2019-2020 school year. Many of the proposed cuts effected the high school, causing students and staff to become uneasy and voice their opinions.
With $1.081 million in cuts already made as of Dec. 20, the school board still needed to cut $735,435 to balance the budget. To be in compliance with school board policy number R 5.4, the board must also attain a minimum five percent fund balance, which the board did not reach on their Dec. 20 meeting, or their Feb. 21 meeting.
However, the board did balance the deficit, cutting an additional $1.014 million from the 2019-2020 school year budget in a matter of hours. The reductions included reducing administrative costs by $257,000, reducing the district technology budget by $240,000, reducing additional professional development by $348,000, reducing custodial staff by up to 4 FTE to save $100,000, increasing high school athletic fees by 10 percent to bring in $28,000, and eliminate the district paying for the ACT, saving $41,000.
These cuts would allow for $265,000 to go towards the board's five percent fund balance, but the board is still short of their goal.