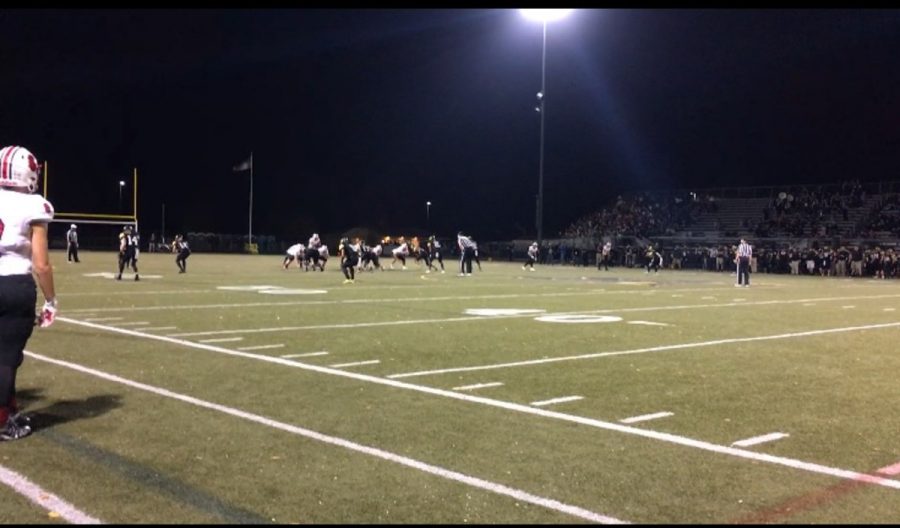 Jackson Dunleap turns early season disappointment into memorable end
Senior Jackson Dunleap's varsity football dreams were put on hold when the starting job went to juniors Mason Green and Matt Crowl, but that didn't stop Jackson's drive to achieve his goal that proved to pay off.
Dunleap's  football season didn't start off as he had hoped, but with motivation and love for the game he was able to come off the bench and generate a much needed run game and propel his way to something only one other player in Pony history has been able to do.
With Dunleap starting his season on JV, he  knew that he needed to find something to help regain motivation, so he looked to the coaches who told him he needed to start having fun again. It was safe to say Dunleap had a blast by gashing opposing defenses and running with hard hitting attitude.
"It was really fun getting to watch him dominate by ripping off 50 to 60 yard runs then being able to see him carry that up to varsity," JV quarterback junior Mark Roettger said.
With junior running back Green going down with an elbow injury in week four, Jackson was able to come in and give the pony offense a tough, hard running game that they were searching for.
"He did pretty well with little varsity snaps by providing a solid run game, he filled the void very well," quarterback senior quarterback Grayson Hosch said.
Dunleap's biggest performance came during a 55-28 statement win against rival White Bear. Jackson rushed for a school record tying five touchdowns and gashed the bears defense for multiple 20 plus yard runs.
"
At first I didn't know it was a record, but once I did I felt it was cool to tie it and have it be a part of Stillwater for a long time."
— Jackson Dunleap
"At first I didn't know it was a record, but once I did I felt it was cool to tie it and have it be a part of Stillwater for a long time," Dunleap said.
Dunleap's season ending very differently then it began. By working hard and finding a way to have fun again Jackson was able to earn his way into the varsity rotation and record books.
"It was more than I can imagine I didn't expect to tie a record and have the success I did so I learned if you put in hard work you will be rewarded," Dunleap said.
With the season coming to a disappointing end jacksons did not capping off his senior season with a 63 yard touchdown run which seemed like a perfect way for the underdog to end his season. Jackson teaches us something that's bigger than football that if you never give up and keep working hard you will get rewarded.