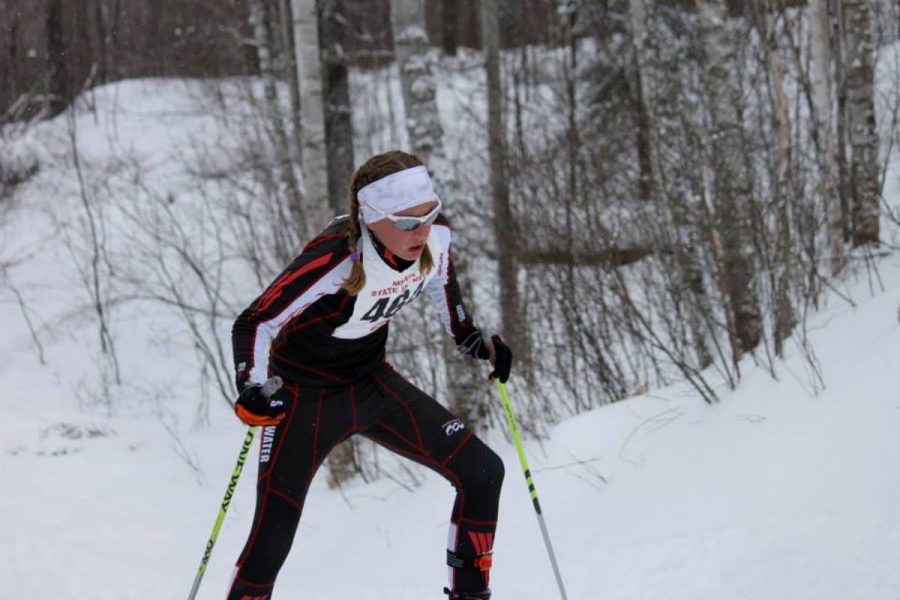 Siri Bohachek has bright future in store
The air is cold and creates wisps of breathe that flow through the air. The sudden shifts of movement only makes everything more nerve racking. As seconds are counted down by a coach with a watch in one hand and a starter gun in the other, five girls are lined up next to each other all in different bright colors. The smell of anxiety and stress fills the air as the gun goes off. The only thing left now between her and the finish line is the cold snow that she glides across.
This is sophomore Siri Bohachek. She has excelled in the sports she has taken part in. Last year on the Stillwater Nordic Team, she rose to the top of the team as a ninth grader and has started to compete nationally. As a sophomore this year, she plans on staying on the top and hopefully getting to compete in more races with other girls from across the nation. Bohachek also participates on the Mountain Biking Team and is a great leader. She has also recently been elected as captain of the 2016 season.
Mountain Biking
Bohachek swept the field against her competitors last year as she finished first at the state race in the ninth grade division. This year as the 2015 season wrapped up she took 8th in the top ten at state racing against girls that were a year older than her.
"I love mountain biking," Bohachek said. "I think I've been mountain biking since I was eight and loved it ever since."
Bohachek hopes to race her junior year at the varsity level against some of the best girls the state of Minnesota has to offer.
"
If the opportunity comes up I would love to get a scholarship to a college for Nordic skiing."
— Siri Bohachek
Nordic Team
"I love Nordic skiing, I look forward to it everyday," Bohachek said. "I love participating on the Nordic team, it's a great group of people."
As a freshman on the team last year, she straddled between first and second place with a senior. As a sophomore this year, she is in a league of her own hoping to finish in the top ten at the state tournament this coming January.
"I'd have to say that I like Nordic more than Mountain Biking," Bohachek said. "Mountain Biking is great but Nordic is something else. It's special to me."
She hopes to continue to rise in the ranks at the state level once she becomes a junior and a senior. Her coaches and her teammates all have high hopes for her skiing career.
"I'm going to work as hard as I can during high school and hopefully take my sports on to college," Bohachek said. "Taking part in sports teaches you perseverance and discipline, because you can't go into a sport based on natural ability, it has to come from hard work."
Sometimes on a team when things get stressful there are unpleasant events that go on that all teams go through, if that be a fight, a bad result, a teammate that quits, there are many things that could happen to test the loyalty of the athletes.
"Sometimes there are little things that you find annoying but you have to work past those problems because you are on a team," Bohachek said. "It can also be hard when you want to stay home or not do a certain workout, but you can't just stop whenever you want because you have a team that relies on you."
Inspiration and future
"Jessie Diggins is one of my role models and my other  role model is my own mother who is also my coach," Bohachek said. "They're both hard workers and value teamwork and prefer working hard over natural ability. They are both just super cool."
Everyone in her life who knows about her sports know of her bright future in the world of Nordic skiing.
"If things go well I plan to get as much out of them as possible and later in life I would want to be a coach," Bohachek said. "If the opportunity comes up I would love to get a scholarship to a college for Nordic skiing."
"Whenever I take part in Mountain Biking or Nordic I feel those are the sports that I'm best at and are the most fun for me, I have the best experiences on, I don't regret taking part in them," said Bohachek. "I love it when I get a good result in a race but being able to work really hard and be disciplined when the weather is unsuitable and I don't want to go out into a workout. I'm the most proud of that."
Siri Bohachek has bright future in store