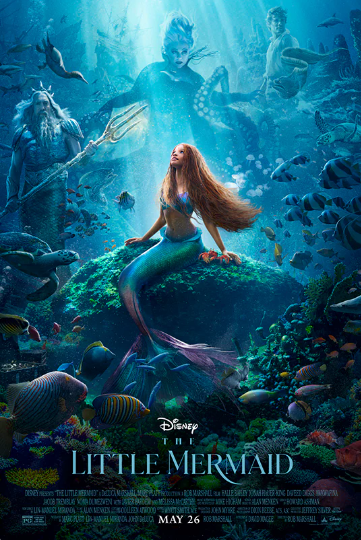 The Little Mermaid live-action creates mixed fan reactions
June 2, 2023
Starting in 1937, Disney has been taking the world by storm. With 61 feature films, Disney has been collecting fans of all ages for decades.  In recent years the franchise has begun to turn its classic films into live-action movies. These films include but are not limited to Cinderella, The Beauty and the Beast and Aladdin. The newest addition to the live-action films is The Little Mermaid, making its debut over Memorial Day weekend. The Disney fan base is split between love and hate for the film. Some are excited about the remake and appreciate the modern updates while others are disappointed with the CGI and actors who could have been in the movie. 
"I'm going to try to go in with no expectations because I know if I go in expecting the animated version, I'll probably be disappointed. I'm not going to expect anything I'm just going to let it be its own movie," senior Erica Bartkey explained.
"
I'm going to try to go in with no expectations because I know if I go in expecting the animated version, I'll probably be disappointed.
— Erica Bartkey
The classic film released in 1989 became a fan favorite among Disney fans of all ages. The plot follows a beautiful young mermaid with a spectacular voice who wants to be among the humans. While this is staying the same in the live action, there will be updates to make the film more modern. For example, there have been a few changes to characters like Scuttle, who is now a female and has been switched from a Segul to a Northern Gannet allowing the character to be in underwater scenes. The songs "Poor Unfortunate Soul" and "Kiss the Girl" have been updated to be more modern and address issues about consent. 
"I think it's important to change things since these are movies being marketed mainly to children. They need to make sure that it's not offensive or problematic, especially in the consent section of problems, it's important to not normalize things like that in mainly children's media," freshman Ella Venzke said.
 One of the actresses that fans are excited to see in the remake is Melissa McCarthy who plays the part of Ursula. She has received numerous awards including two Emmys and two nominations for Academy Awards and golden globe awards. She has been described as a perfect fit by directors and fellow actors. Another highly anticipated actor is Halle Bailey playing the lead role of Ariel. Her stunning voice is what landed her the role and it is a near-perfect match to the original songs sung by Jodi Benson.
"I don't mind [Melissa McCarthy] playing the part of Ursula, but part of me wishes they would have chosen a drag queen because that was the original design for Urcila," junior Amelia Barton explained.
While casting for the film, there were a few celebrities considered for the roles of Ariel and Eric such as Zendaya and Harry Styles. Venske explains these celebrities would drive some fans away because people go to see the movie, not for which celebrity is in them, but because they like the plot. They also think original fans would be disappointed and go see it to make fun of the celebrities, not to enjoy the movie. 
"I've noticed with some of the past remakes that it's a little bit of stunt casting where they're like,  look at this face, and they might not sound the best but here she actually sounds good," Bartkey explained.
In the last few years, underwater scenes have been improving with new CGI technology. While some fans like Venske think "they are doing the best they can" and "it's come a long way," others disagree. For example, the original character flounder terrifies fans with his odd design that looks nothing like the cartoon.
"That doesn't look like how flounder is supposed to look like, why is it not yellow?  It's a little scary, actually, it's terrifying, " Venske said.
This is an outstanding movie that fans of all ages should go see. From possible new scenes and mesmerizing music there is something for every fan to enjoy.