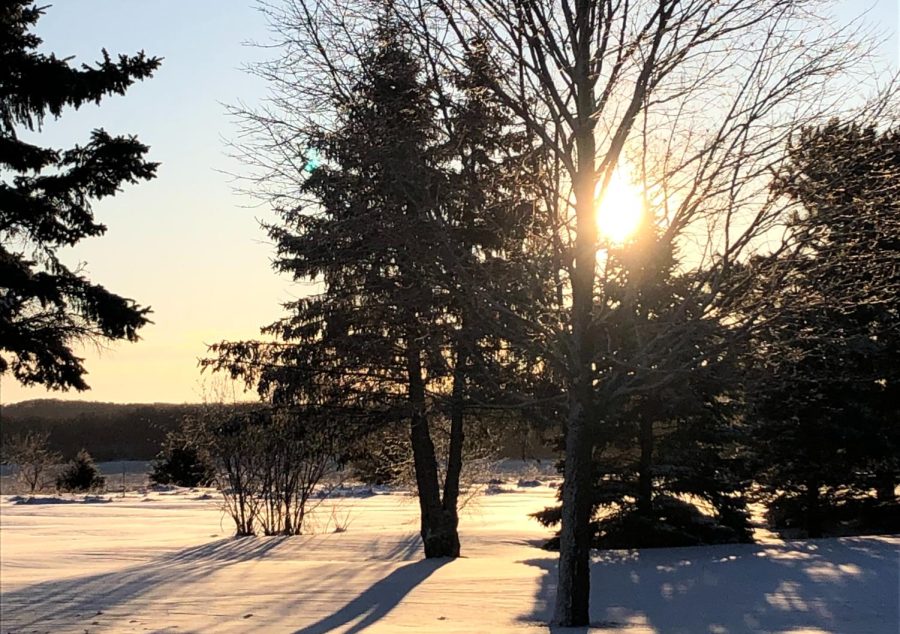 Seasonal Affective Depression affects people annually
The bright Christmas lights strung on trees and in windows represent the season of cheer. During this time, many people see a decline in their mood. Around the same time every year more than 3 million people experience a mood disorder called Seasonal Affective Disorder. Fatigue, depression, hopelessness and social withdrawal are all common symptoms of this disorder. There still is not a known reason as to why this happens, but there are ways to work through it.
There are different coping mechanisms for different people. Just like any other disease or injury, treatment is prescribed based on what would benefit someone the best. Physical exercise is essential for anyone, regardless of ones mental state. Exercise keeps the body and mind equally happy.
Dopamine is a natural drug in our brains that helps someone feel pleasure. Lack of dopamine can make a person less motivated and excited about things. When someone exercises, the drug is released. Lack of dopamine is not the only thing that can play a role in seasonal depression. Lack of sunlight also can affect one's mental health.
"I know that exercise can really help people feel better. It releases dopamine in your brain," health teacher Angie Ryan said.
In Minnesota, we experience a quarter of the year in the cold winter season. During winter, we are farthest from the sun meaning we receive the least amount of sunlight. Weather also gets very frigid outside, making most people stay inside as much as they can. Lack of sunlight and poor weather has a huge impact on people's mental health, causing seasonal depression.
"Lack of light can throw off your circadian rhythm. This can cause your brain to produce too much of the sleep hormone melatonin and to release less serotonin, the feel-good brain chemical that affects mood," Harvard Health explained, another effect of seasonal depression is lack of interest in things one once enjoyed.
Everyone knows how being sad can affect a person's motivation. Often, people have one bad day, maybe two or three. People feel that way for months straight. It is hard to stay interested in things people once enjoyed when someone are not feeling the best. Feeling down also makes it hard to focus in school.
"I don't do my classwork ever, I can't focus in class ever and I have difficulty staying awake and focused and I zone out when I'm having a harder time with mental illness," junior Berit Serle said when asked how her seasonal depression affects her school experience.
"
I can't focus in class ever and I have difficulty staying awake and focused."
— Berit Serle
From lack of motivation to staying awake, depression of any sorts is hard to manage on top of school. It is hard to focus on school and a task at hand when the mind cannot function properly.
"I just think there should be more awareness, that it shouldn't be so taboo in this kind of place," Serle said.
It is easy to feel shut out in a place like school, especially when a person is seen as different or "less than" due to the way the brain works. The only way to do so is breaking the stigma.
'Make it Ok' is a campaign that allows everyone at Stillwater Area High School to know that it is ok to talk about mental health and it is ok not to be ok. School widely affects a teen's mental health which is why it is so important to have someone to talk to without worry of judgement. A lot of students and even adults keep to themselves due to the stigma behind mental health. 'Make it Ok' voices the opposite, attempting to break that stigma. 
"Students in health class can sign off saying that they are going to stop the stigma of mental health disorders and instead make it okay, so whether it's depression, seasonal depression, anxiety, whatever is going on with somebody's mental health," Ryan said.
Mental health is extremely important. Especially with social media and everything that is going on in the world. No one should feel alone, and no one should feel like they cannot talk to anyone. Not a single person is more or less than anyone else. Breaking the stigma is the first step to fighting a disease like depression, but it needs to be more than that. It is just the start.