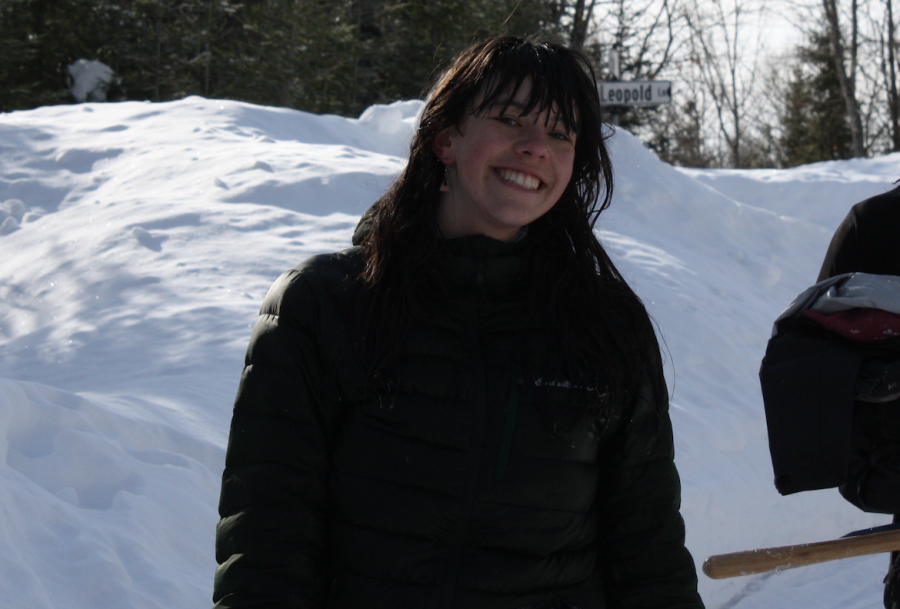 Photo submitted by Emma Bourne
Bourne learns in nature
Everyone learns differently. Some people learn best in the classroom, others learn better physically doing what they are learning. For junior Emma Bourne, she took the route not commonly taken by high school students. Bourne is spending the spring semester at an unusual kind of high school, she is currently at The Conserve School. The Conserve School states on their website that their school is for students who have demonstrated a genuine interest in the natural world and who are motivated to conserve it.
"I have always been really interested in the environment and wanted to pursue it through school," Bourne said.
The Conserve School is a semester school for environmentally and outdoor-minded high school students located in Land O' Lakes, Vilas County, Wis. The school averages 60 students and all must apply and get accepted in order to attend. 
Conserve is primarily designed for high school juniors, but accommodates flexibility for advanced sophomores. 
Bourne explained she heard of the Conserve School through her friends and the application process took her in total about 3-4 weeks to complete.
Students who have a strong passion for nature and want to pursue their love for the school and the environment together find that Conserve is the perfect place for them. The school does not only teach core curricular classes but also helps students gain leadership, participate in environmental service work along with engagement and plenty of time in the outdoors. Classes incorporate curriculum with the outdoors.
"
You just automatically develop friendships, it's cool to be around people that can relate to what you enjoy."
— Emma Bourne
"In history class, we took a reading outside and in parts of the reading where characters were making a fire that's exactly what we did," Bourne added.
When people think of going to school for the outdoors, most minds go camping and making hotdogs over a campfire, but this is not the case at Conserve. Students each have their own bedroom, a shared bathroom, common space, living room, and a communal dining room for meals. With common spaces, students grow friendships and make memories with people that share the same interests as them. 
Leaving a school can be difficult even for one semester. Bourne said she had some challenges in the previous semester, so she was excited and ready for something new. With a new setting and learning environment, school and living are completely changed at Conserve. The transfer from going to school and living in Stillwater to Conserve was easier than Bourne had expected.