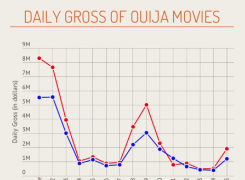 Ellie Faeth, Copy Editor
November 14, 2016
Filed under Arts, TV & Film Reviews
For horror film fanatics and Halloween lovers, Ouija: Origin of Evil is the perfect movie. The first Ouija movie came out on Oct. 24, 2014 and two years later Ouija: Origin of Evil followed on Oct. 21. The movie portrays a family (a widow and her daughters) who live on their own in Los Angeles in 1967 a...