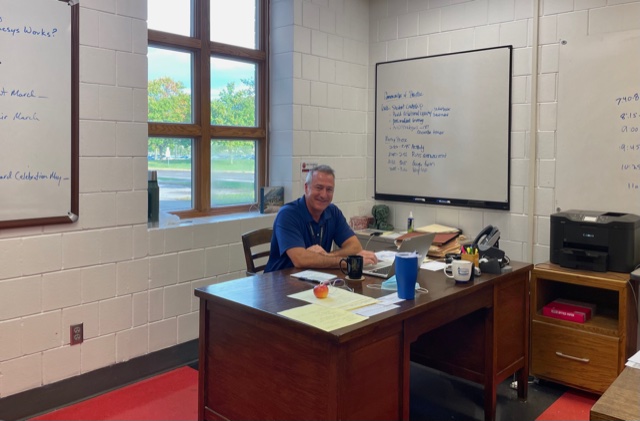 Photo by Evelyn Biederman
On Oct. 13 career pathways coordinators have set aside a day for juniors and seniors to plan their future. On this day physical campus tours of Minnesota and Wisconsin universities along with virtual tours for out of state campuses are offered for upperclassmen.
Physical campus tours are being offered to seven different universities. The list includes, the U of M, Century College, Dunwoody College, St. Thomas, Augsburg, UW Stout and UW River Falls. Students will take a bus provided by the school to and from the campus during the school day if they choose to attend a tour. If students are interested in touring a school outside that list they are able to take a virtual tour from home that day as well.
"We looked at what are our top 25 schools where kids go. We also looked at student survey data," Pathways Coordinator Rachel Steil said. "The University of Minnesota was our number one school Century College was number two school."
The Pathways office is offering a variety of other opportunities for students to explore post high school options throughout the year. This includes Manufacturing Day on Oct. 1, Build my Future event on Oct. 6, and Healthcare Discovery Day on Nov. 28. These days are available for signup in the Pathways office (room F100).
Steil explained that the Pathways program will continue to provide programming throughout the year for students to explore all possible career fields.
Directed Study is an elective offered through the Pathways office. Students of any grade can sign up when registering for classes this winter. The course is meant for students who are looking to direct their own learning and get an idea of what they want to do after high school.
Pathways coordinator Bob Manning left the social studies department to become a Pathways Coordinator because he was "tired of looking into his classroom and seeing students who were good people, had talent, but weren't feeling like they were connected to school."<iframe src="https://uploads.knightlab.com/storymapjs/c137798f30d1227f5c7888bf89ff586e/college-career-day/index.html" frameborder="0″ width="100%" height="800″></iframe>
Additionally, scholarships and financial aid will be discussed on Game Day in the afternoon. Last year, the school provided over $400,000 in scholarships to students. Applications for scholarships are open to seniors only, and is open November through February.
Game Day, headed by Steil is "just a great day to give everybody an equal opportunity and equal access to college exposure."
For students looking to go into the military, representatives from the U.S. Army will be at school on Game Day. Students interested will have the opportunity to take a practice military entrance exam.
"I wanted to provide a chance for students to be more intentional about their experience to make school more relevant," Manning said. "Provide experiences for them to develop skills and develop a sense of who they are and what they could be through real world experiences."
Steil added, "this is the first school wide effort to make sure every junior and senior has an equal opportunity through transportation and virtual link to be a part of that experience."