Seniors graduate with minimal high school experience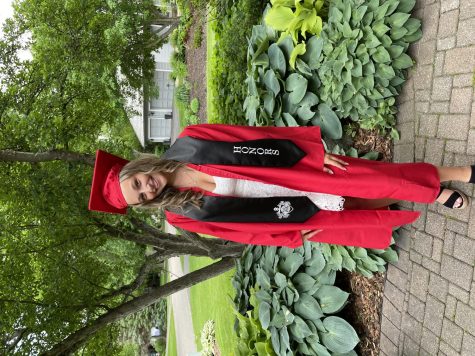 With graduation coming up, many seniors have gotten their high school experience cut short. Due to covid, the class of 2021 has been forced to do almost 2 years of online school and missed out on some of the biggest opportunities to really get a feel for high school. Therefore, students are worried about going into the next steps in their life, based on how high school has helped them grow, even during this difficult time. 
In March of 2020 the 2020 school year got cut short due to covid-19. Not only were all students affected but mostly those students who play sports were affected a little bit more. High school athletes have been limited to the amount of time they were able to play and continue to get better, "This year unfortunately volleyball got cut short due to another outbreak. After that we had to go online again which was really upsetting and a sad way to end my senior year career", Senior Lauren Riniker explains. 
Lucky enough this year seniors get to participate in graduation and get to participate in prom which is a lot more than the seniors last year got to do. Although not everything is back to normal many things are now opening up just for the end of the school year for the seniors, "I'm glad that our class gets to get prom and graduation and all this other fun stuff that the seniors last year didn't get a chance to. I'm very grateful for that even though it still sucks with the restrictions .", Senior Emma Kindler says. 
Almost everything changed from the beginning of last year's school year to the beginning of this school year. Two Falls ago everything was almost completely normal and there was no care in the world and no idea that one of the deadliest viruses would be coming and affecting everybody's life. 
This year schools for being shut down left and right and students felt as though they didn't get the adequate education that they would have gotten if they were in school 100% of the time, "I think the way that we kept having to go online many times throughout the school year really affected the way that I learned and affected my social skills and in-person focus ", Senior Sam Collova explained. 
Obviously most high schoolers look forward to their last day of senior year but when it really comes most are saddened, " I am absolutely ecstatic to go to college but it's also really sad leaving all of these people that I have grown up with my entire life" Kindler added. 
If you're a freshman coming into school one word of advice that most seniors would give would be, "Stay on top of your classes and really enjoy the experience because it goes by really fast", Riniker Added. 
Moral of the story is that throughout your high school career you will be faced with a lot of adversity and a lot of hardships that will knock you down and make you question a lot of things in your life. You will change a lot, you will make a lot of new friends, and high school changes everything. But on your last day it will be hard to look back and reflect on how fast those four years went by. Always be optimistic for the future and college is just another four years of the same thing, just with different people.