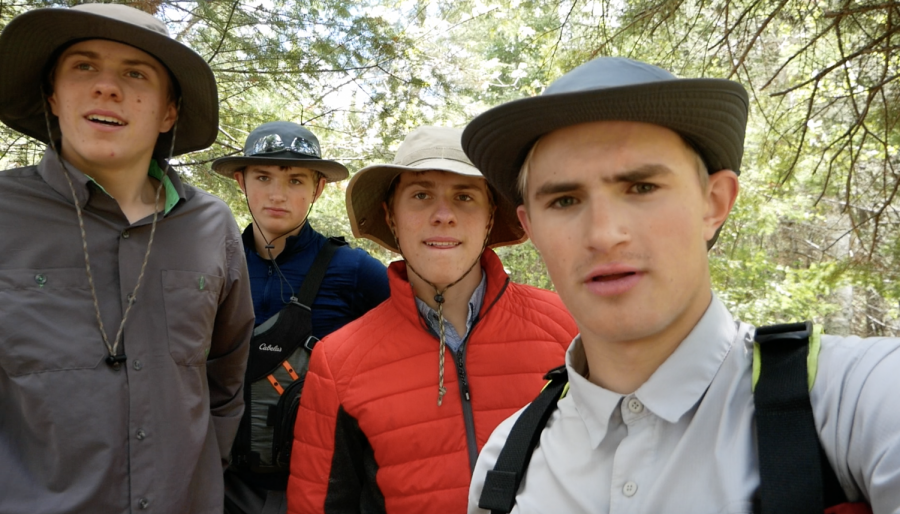 Photo submitted by Mason Buck
Juniors Austin Buck, Mason Buck, Hugh Hanlon and sophomore Otto Hanlon have been making YouTube videos for a couple years. They have always been interested in the outdoors and they have been exploring and learning since they were little. The first day they all went out together was in the winter of 2018. On the bus on their way home from school, one of the boys suggested that they go out in the woods during the snowstorm. They started to become independent with these trips in the fall of 2019, their freshman year of high school. They started filming  at the suggestion of the Buck's dad.
"We started because our dad had told us that we should just start filming and then we started with his phone, eventually we got a camera and more equipment… We have been into the outdoors since we were young, so it was just another step up," Austin explained.
Bush Bros Outdoors currently sits at 4.05K subscribers, but the goal in the beginning was solely to share their adventures with their friends and family. As they have been met with success, they strive to be better and continue to make videos.
"None of us want to do this full time," Mason explained. "Even if we could, I don't think any of us would want to, because we just like doing it as a hobby, for fun, not as a job." They hope to continue to gain success, but are happy with their progress.
"We started filming because we wanted to show our parents, friends and our family, what we were up to. If you would have told us that we would be at this point when we started freshman year, then we would be amazed, and we're very pleased with where we are," Hugh said.
The boys have very full plates; they balance sports and school, and they still manage to make time to do extra things they love. They prioritize school and sports first, then add in the other things, like these trips when they can. 
"They're super busy kids, they're very well balanced, you know, I still see them with friends, their sports and getting good grades, they're kind of the whole package, they just seem to have it all together. So, very impressive," Debbie Drew, video production and Cutaway Productions teacher said.
Going on trips together and making YouTube videos creates a strong bond. Over the last few years, they have created this strong relationship and is one of the best things to come out of it as a whole. It is more than just a couple videos, they have learned life skills, grown and become overall well rounded people in general due to their YouTube journey.
Austin explained that they have learned things that help them in life, the qualities of a good friendship, how to work hard, how to put their mind to something, have it really pay off and have a feeling of accomplishment.
These trips consist of a lot more than just an outdoor adventure like some might assume. They use bush craft, which is essentially the learning of skill and developing of knowledge, in order to survive and thrive in the natural environment. A memorable trip they have and like to look back on is when they, in four days, paddled 100 miles on the St. Croix River. This very difficult trip enhanced their friendship as they had to persevere and be determined to get through it.
<iframe frameborder="0″ class="juxtapose" width="100%" height="1024″ src="https://cdn.knightlab.com/libs/juxtapose/latest/embed/index.html?uid=736f725e-b1cb-11eb-b7bf-95443c729a29″></iframe>
"Once we completed it and landed on the dock, we all had the best feeling ever, the feeling that we completed our goal of a very tough trip and we did it together. It was a very proud moment we had persevering through the tough times," Mason said.
Being passionate about something is so important because it taught them how to see something through and motivated them to finish it. As seen by the "Bush Bros" they endure these trips and work hard to successfully complete them. Along with having passion with these adventures they strive to do well in school, sports and everyday activities.
"Having different passions is important to the quality of life beyond high school. If all you have is sports or a club, they aren't going to last forever, so having other things that you really enjoy like the outdoors, or that kind of thing I think is really important," math teacher Michael Parker said.