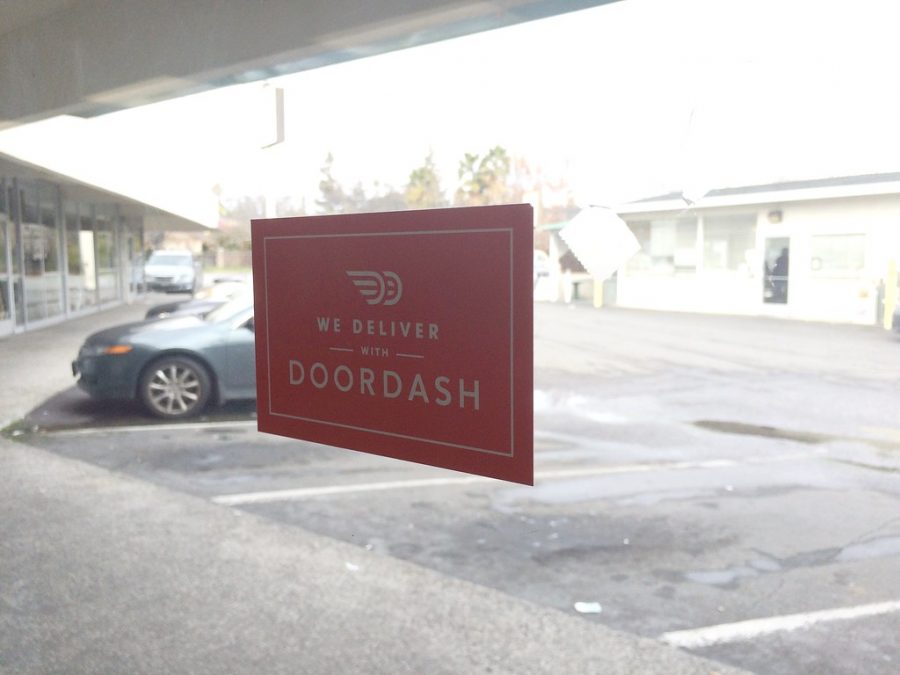 "Doordash sticker" by planspark from Creative Commons
Students work for DoorDash to earn money
Balancing school and work as a teenager can be tricky, but a couple of students have found a way around having a hectic schedule. Seniors Dominic Krenz and Jack Taverna started working for DoorDash as a way to work on their own time and still make some money. 
When it comes to working in high school, DoorDash typically is not the first thing that comes to people's minds. However, it can have some great benefits and advantages over a run-of-the-mill job.
"I'd say the biggest benefit is the quick money you can make from it," Krenz said. "It's pretty fast and easy since all you need to do is go pick up the food from whatever restaurant or store and drop it off at the buyer's house." 
Taverna mentioned that he thinks the biggest benefit is that you get to pick his own hours. He likes that he does not have a set schedule where he has to clock in and out.
Like every job, however, it does not come without its setbacks. Gas is a big concern when considering DoorDash as a job.
"
It's an easy way to make some quick money. It's pretty fun, and I'd really recommend it."
— Dominic Krenz
"Sometimes people can order from Hudson and then you have to drive all the way down to Hudson, and you have to use your own gas money," Taverna said.
 "It can really take a toll on your car using a lot of gas mileage," Krenz added.
 Despite the setbacks it has, it can actually be a fun line of work. Sitting in a car all day may not sound very appealing, but Taverna begs to differ.
"I just drive around for my job instead of doing actual work," Taverna said. "I can just chill in my car and deliver food and get paid a decent amount of money to do it."
A typical day of a DoorDash driver is simple enough: schedule when they want to work then get in their car and go.
"I schedule what time I want to work the night before," Krenz said. "Then I click all the buttons to get started and pick up my first order. It's super easy."
"It's an easy way to make some quick money," Krenz said. "It's pretty fun, and I'd really recommend it."