Girls synchronized swimming team excited for new season amid changes
Girls synchronized swimming starts this week with almost half of their normal numbers. The swimmers can not wear masks when they swim so this poses questions and new safety precautions during COVID-19.
47 girls were registered last year before the season was canceled, and this year there are 33. Several seniors graduated, but many did not return because of the risk of exposure to COVID-19.
"There are a lot of girls who didn't want to risk it, which is completely understandable. So that's a little bit upsetting, but I think every other team in the League has shortened numbers, so it all evens out in the end," senior captain Grace Sneden said.
Precautions are being taken to make the pool as safe as possible this season. The swimmers will wear masks while on deck, have limited locker room space and time, and social distance as much as possible. The CDC has stated that chlorine can "inactivate" the coronavirus and stop it from spreading if the pools are maintained correctly.
"I do believe the pool is a safe place to be in terms of COVID, but of course I'm a little nervous about my swimmers staying healthy all season long. I also hope any school exposures or spring break exposures don't amount to any illness," head coach Kathy Henderson said.
In synchronized swimming, there are two competition divisions: figures and routines. Figures are performing one, usually slow, complicated movement like ballet leg or barracuda. Swimmers are scored on a 0.0-10.0 point scale by three to five judges. Routines have the same scoring but with five or more judges. In this division, the girls perform a routine as a solo, duet, trio, or team. There are short, long and extended divisions in which the length of the music varies. These routines get judged on their technique and musical interpretation. After all of the events, the whole team's score is calculated by combing the points of the short, long, and extended events.
Sneden added that it is great to be part of such a fun and interesting sport.
"
We don't know what this season will hold for us, but we are grateful to be together again.""
— Kathy Henderson
There are several changes to competitions this season including the elimination of JV figures, no spectators, the separation of teams on the pool deck, and shortened routine times.
Henderson said "Our sections and state championships will likely be very different than in the past," but those details are still being determined.
Everyone on the team is really looking forward to this season and getting back to the team after missing last year.
"I love hanging out with my friends and working out in a fun environment. I am looking forward to being challenged this year because I am in the extended division," senior captain Kya Hodgdon said.
The girls synchronized swimming team has a history dating back to 1953. Synchronized swimming was recognized by the MSHSL in the late '70s or early '80s. Since then, Stillwater has always done very well and placed either 1st or 2nd in the state. The team has also produced many All-State champions.
Henderson is "honored to be a part of this rich tradition and history!"
About the Writer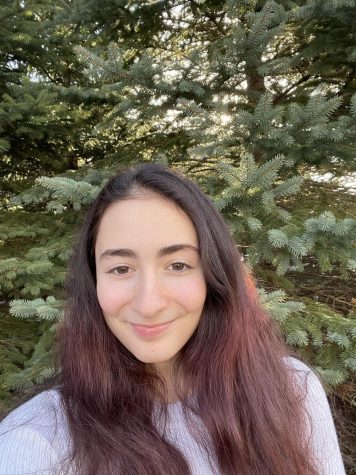 Nila Cooper, Photography Editor
My name is Nila Cooper and I am a junior and photographer in newspaper. I am a competitive figure skater and I am also part of the Wind Symphony, jazz...