New Dunkin' Matcha Topped Donut
As if we didn't already have enough uncanny events in the year of 2021, here comes another new food blog trend, the Dunkin' matcha topped donut. Eager to try out this interesting flavor combination, I headed to the Dunkin' drive thru, yet again surprising us with a new trendy donut flavor. But, this time they are copying the famous matcha drink. Although this is not as exciting as the last flavor combination, the ghost pepper donut; a spicy sweet treat, if you can handle the heat.
I thought the matcha variety sounded like a close second option. With the ghost pepper donut out for the season, I grabbed my matcha topped donut and took a bite. Looking at the green donut, the top is filled with powder, the green matcha. Biting in, I taste similar to what would be a glazed donut. Then,  I got a hint of the matcha powder, finishing my bite with a light, but sweet, flavor. Underneath the powder is a soft and buttery glazed donut, very similar to the original style of donuts sold at most bakeries.
Based on the reviews of how other people enjoyed this unique flavor, it seemed to not live up to the expectations. Although the green tea flavor balances out the craveable sweetness, to me it seemed just average and I would have preferred the original donut flavors. With our society evolving and becoming more interested in healthier alternatives to sugary treats, the matcha has become a popular go to for drinks and flavors of food. Matcha is believed to have cancer-fighting effects on the body and may help to prevent heart disease along with type two diabetes. It even is thought to encourage weight loss.
However, when the matcha powder is paired with a donut, to me it just seems like another trap to eat something sweet. But, I would consider giving this donut flavor a try, for it is fun to experience and taste something new!
Leave a Comment
About the Contributor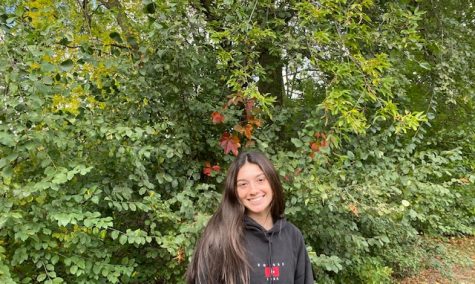 Calli Dierkhising, Food Blog Reporter


My name is Calli Dierkhising and I am a junior. My position of the Pony Express is the food blogger. I am part of the track team at Stillwater...