Jack Wells Bounces Back From Major Leg Injury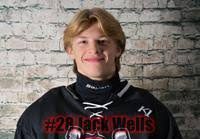 Anything can be dangerous. Junior Jack Wells realized this after breaking his leg playing a pickup game of football at Woodbury High School. Wells fractured his fibula, tibia, tore his PCL, tore his medial meniscus, lateral meniscus, tore his IT band, and tore three more ligaments in a piteous corner. All of this happened from jumping up for a football and colliding trying to intercept it. This all happened late fall right after football season and just before Wells' junior hockey season.
Wells had to undergo a 3.5 hour surgery for this gruesome injury. The surgeons had to cut in four different spots in his leg around the knee. They had to repair plenty of ligaments including the PCL and several other smaller ligaments that were torn.
He has to keep a tight compression sock around the cuts to improve blood flow. Wells also has to hook up several different machines to his leg for muscle stimulation, compression and etc. to make sure his leg stays in good shape while he can not use it.
"I've gotten used to the process of the stuff I do everyday to keep my leg in shape," Well said.
Wells had nearly a month from when the leg was injured until his surgery. This surgery was the start of the recovery process for him and everything after, he learned, is a long but promising road forward.
"The doctors told me 10-12 weeks after surgery I get the brace off. Obviously not going to be able to get right back into sports but it's definitely a step forward," Wells said. 
Many leg injuries will usually just take around 6-8 weeks to heal completely, but this was not the case for Wells. Wells injury was considered a major leg injury and it was much more than just a broken bone.
"The doctors even said they usually only see leg injuries this bad in car crashes," Wells explained.
"
Parents and former coaches reach out to me. It makes me feel really good knowing they are right there with me."
— Jack Wells
Wells broke both his tibia and fibula but the ligaments that were torn result in an even longer recovery. Wells was not happy to hear this news as he wanted to play sports, especially hockey.
The injury occurred right before Wells' junior year varsity hockey season. "I was super bummed out to hear how long I was going to be out for. They think I can maybe get back for next hockey season which is just over a year's recovery," Wells said.
Many guys miss having Wells on the team this year. Senior team manager Isaac Albers said, "he brought some great energy to the locker room and is a guy me and many of the boys miss having in the locker room all the time."
Wells plans on getting back onto skates hopefully late summer. His goal is to get back onto the ice for his senior season which if everything goes as planned it looks promising. 
Many people obviously feel for Wells and have supported him throughout this journey, "I've had plenty of friends give me some gifts and parents and former coaches reach out to me. It makes me feel really good knowing they are right there with me."
Wells joined the hockey team in as many activities as he could attend. The team saved him a spot on the roster so he could come to every game and still feel a part of the team. 
Wells has battled through a lot and is looking forward to recovering and bouncing back. He wants to come back better than before and he realizes there is nothing he can take for granted. He wants to surprise everyone and come out stronger, bigger and faster. He is extremely excited for what the future holds and is hoping to have a very successful turn around.
About the Writer
Grant Miller, Food Blog Reporter
My name is Grant Miller I am a junior and a food blog reporter for newspaper at SAHS. I play two sports hockey and football. I love fishing and hunting...