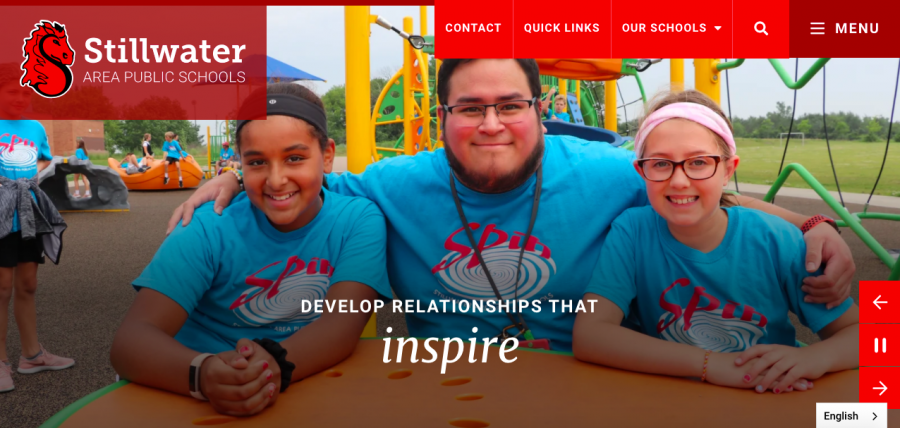 Republished with Permission from Stillwater Public Schools
The Stillwater Area School District released a new website in January which looks far different than the old and dated website from previous years. The new website features a quick links tab for families and an "our schools" tab so users can quickly reach the website specific to their school. The website is more modern as well, providing many tabs and a clean layout so students and families can quickly find what they need. Although the website is more appealing now, users of the old website may find this one hard to use and navigate and may wonder what led the district to change the website. 
The past website was dated, having received its most recent redesign in 2012, and with technology rapidly changing, the site lacked accessibility features and was difficult to operate from a smartphone or tablet device. Websites must meet federal requirements for accessibility and the previous website was not fully accessible to people who might have disabilities.
"Our previous website was dated, it was nine years old and was starting to have some accessibility issues. There are federal requirements of how a website has to be accessible to people who might have disabilities. There are people who have to actually access a website using a reader that reads to them or different things for the visually impaired and other pieces. Our old site was not fully accessible, that was one big driver," Community Engagement Manager Carrisa Kiester said. 
The new site offers several new features like being fully accessible, the option to change languages, and an embedded Google calendar to name a few options. The new translation button, located in the bottom right-hand corner of the site, allows viewers to choose from English, Spanish, Hmong, or Somali and fully translates the site. The website is also fully mobile as well, accessible from any device whether it may be a phone, tablet, or computer.
Kiester said the site is now fully accessible, "It also allows us to have our calendars integrated into the website. So Google Calendar is embedded into the website for people to see, in the bottom right-hand corner of the website, there is a little button now, so that you can toggle between different languages . . . There is a lot of strength we can use, we can use our website to send out emails and post messages at the same time. So instead of using a different platform for that, it can all just happen in one platform, which makes it a lot easier for the people who are creating those pieces." 
The website was recently released on Jan. 12, so adjustments are still being made within the site. When the site was redesigned, many pages were removed so the information would be more relevant to the viewer, the previous website was large took up bandwidth, which made it difficult to navigate and maintain, holding nearly 20,000 pages/content, most of which was several years old and no longer needed. 
"We are still making tweaks to the website as we go along, but part of the process was to just sort of clean house and make sure that the old irrelevant things went away, and everything is fresh. What we have been telling people is if you happen to find something where a link is broken, or you are looking for information, and it is not there reach out and let us know. It is still a work in progress but we are trying to get it to where it needs to be," Kiester said.
Science Teacher, Andrew Weaver, had his own staff page on the previous site where he would keep links to data charts and cameras in the environmental learning center. Although when the district changed sites, they removed staff pages, simplifying to a smaller directory which in turn deleted Weavers links. The change in sites has been a bit of a rough transition although in the coming months Weaver hopes to restore his links so students can still view the data he previously had posted to his teacher's page. 
The site also features new pages like the COVID-19 hub and the Family Roadmap. The COVID-19 hub shares information about different learning models for elementary, middle, and high school, and has a COVID-19 dashboard so families can keep track of what is happening with COVID-19 cases inside their school. The Family Roadmap is designed to solve any school-related questions families may have, whether it may be when their student needs to have their next physical or how to help their student apply for college.
To find the COVID-19 hub, Kiester said it is located on the district's main page under the menu button, a section called COVID-19 hub, it is an entire section created just about what is going on with COVID-19, it also gives an update on the schools policies. However, it is more specific to the district because, across the board, the district has things in place, it is not super-specific to schools, because schools are sharing things out in different ways through newsletters or emails to parents. 
Kiester said there are also Roadmaps on each school site under the Learning heading, "This is where students and families can find answers to all school-related questions. The Roadmap is searchable by grade or level and includes information like what kids are learning when to register for classes, and even how to apply for college." 
Last winter, the district began to redesign the website, due to the lack of accessibility features and compatibility with mobile devices. The website has been a major project and with the original release date set for the 2020-2021 winter break, staff needed more time to complete the website pushing the release date back ten days to Jan. 12.
The website was an immense project for district staff, it started last winter when the platform that the previous website used was going out of service, which meant there would not be anyone to fix the website if there were any technical issues in the future. When COVID-19 struck, "The world all just went upside down, and so the amount of time and effort and energy that we had originally planned on putting into the website was sort of pushed aside a little bit.  We were up against a deadline because of high school registration. A lot of information we needed to get out for students to be able to register for high school classes, that was one of the driving timelines, we were hoping to get it out earlier. We were shooting for right before winter break, but we just need a little bit extra time to finish getting ready for registration," Kiester said. 
The district has also begun to implement a new grading program for future school years. PowerSchool, the new grading program, will be replacing Skyward beginning next year for the 2021-2022 school year. Students and staff have not had much exposure to PowerSchool yet, although students did register for next school year using PowerSchool. 
Weaver explained that from a teachers point of view, the change from Skyward is much needed as Skyward and Schoology have been having a difficult time syncing with each other over the past few months, "they were having a hard time talking or transferring information from Schoology to skyward and have been needing all these links and regular syncs with the two programs and then sometimes information will move over and sometimes it will not and there was, there are a bunch of problems with that communication piece."
When junior Sophie Privette registered for classes for next year through PowerSchool, she explained how easy it was to register, it was less complicated and more precise to make sure you signed up for the accurate classes. They have the feature of checking the boxes to ensure you have signed up for everything you need to as well, a feature skyward did not offer. 
Although the district is going through many technological changes, these changes are much needed to keep up with today's technology, when the previous website was created back in 2012, only 35% of U.S. citizens owned a smartphone and now roughly 80% own a smartphone, creating a high demand for a mobile-friendly website. The site was created with the viewer in mind and is intended to be easier to use than the previous website, with more resources and less dated information. To access the fully accessible, mobile-friendly website click here.