Trust club raises money for Special Olympics
The Ponies Trust Club is planning to host a polar plunge this year to raise money for the Minnesota Special Olympics. The plunge will be taking place on March 6th at Ramsey Beach on White Bear Lake. At the plunge, a lot of schools come together to raise money for the Special Olympics. Last year, the plunge was canceled due to COVID-19, but this year they plan to jump in the icy lake once again. 
However, with COVID-19 still impacting the community, there are issues with transportation. Normally students from around the area would take a bus to White Bear Lake, but this year no transportation will be provided. This will mean fewer people than normal will be there, but there will still be a decent-sized crowd.
"Due to complications with covid and transportations I don't expect the turnout to be as good as it was last year, however, there will still be a good amount of people able to participate. For our school, we have recruited new people to plunge or raise money with us, so they have made up for the few people who are unable to plunge this year," junior Audrey Coleman said.
Even with some minor issues, the plunge is still going to be an event worth attending. In past years, groups of students and other attendees meet at a lake. They participated in group activities and played some games, and this year is going to be set up very similarly. After the activities, people get together in groups to jump into the freezing water. For those who want to support, but not freeze there are other options.
"If someone wishes to donate to the plunge they can do so online. In addition to this, they do not have to be a participant in the polar plunge but can support someone who is," Coleman said. 
"
The funds will allow us to support our friends with equipment, activities, field trips, and more."
— TRUST Club leader, Paula Harrison
The impact of this event is astounding. The Plunge allows students and adults to connect with the special ed students and support their programs. The most notable event supported with the funds raised from the plunge is the Minnesota Special Olympics. The Special Olympics is an important event because it allows special ed athletes from around the state to compete and participate in their favorite sporting events. The funds will also help the TRUST club by providing other opportunities. 
"The funds will allow us to support our friends with equipment, activities, field trips, and more," TRUST buddy leader, Paula Harrison said.
This polar plunge event has been taking place for three years. Each year, the attendance has grown. In 2019, they had only six plungers, next year they had 16 plungers, and for this year they are expecting 22 participants to take the freezing plunge. 
"People are being fantastic. We are limited to the people that can come and cheer us on this year. Jon McAllister and I are doing it again, Lindsey Paradise our Police Liaison is joining us along with 4 teachers from Oak-Land Middle School and 15 TRUST Club Members four Friends, and 15 Partners. Friends are our Special Needs Friends and Partners are General Education friends," Harrison said. 
This year's Polar Plunge will really be a huge help for this club. With funds going towards field trips and other opportunities, it is a huge help for the special education students and their programs. People who take a plunge into the icy lake, produce a heartwarming effect. 
About the Writer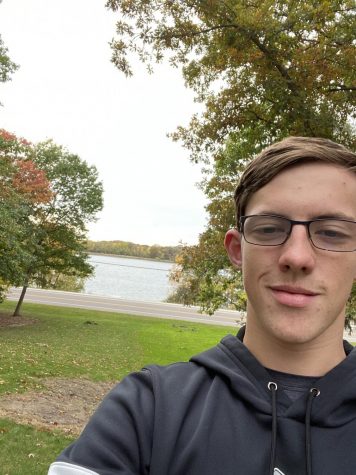 Zach Olson, Video Editor
My name is Zach Olson and I am a junior. My position on the Pony Express is a broadcast editor. I am part of the wrestling and track team. I enjoy working...